Ace Hardware and Valspar Paint Unveil Revolutionary New Paint Department With "Helpful Is Beautiful" Campaign
Elements From the Cosmetics and Beauty Industry Are Brought to the World of Paint in Ace's Largest-Ever Ad Campaign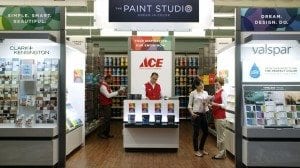 OAK BROOK, IL–(Marketwired – May 1, 2014) – Today, Ace Hardware, the largest retailer-owned hardware cooperative in the industry, and Valspar Paint®, a global leader in the paint and coatings industry, unveil "Helpful is Beautiful™," a revolutionary new advertising campaign. Using familiar concepts from the beauty industry, the integrated campaign was created to introduce consumers to the new Paint Studio at Ace.
Launching nationally in over 3,200 locally owned Ace Hardware stores this month, The Paint Studio was designed around the insight that consumers seek a more style-inspired and personal paint shopping experience rather than a traditional trip to the hardware store. The Paint Studio offers consumers a boutique-style experience with exclusive paint collections from Clark+Kensington®, Valspar Optimus™ and Valspar Aspire® displayed in unique drawers and on eye-catching racks with bright lighting and tools to make the color selection process simple. Paired with the helpful service and knowledgeable advice customers can expect from Ace associates, The Paint Studio provides a world-class paint experience right in consumers' neighborhood hardware stores.
"The Paint Studio at Ace is truly a new and better way to shop for paint," said Mary Rice, president and general manager, Ace Paint Division. "With new colors, trusted brands and a boutique feel specializing in personalized attention and service, we are thrilled to provide consumers with a completely new paint shopping experience that's designed to help them find their perfect color."
The "Helpful is Beautiful" campaign, which was jointly developed by Ace and Valspar with FCB Chicago, is the largest ad campaign in Ace's history. It includes television, radio, print, social, digital and point-of-sale components reminiscent of beauty advertisements. The TV spots begin like extravagant cosmetics commercials, with close-ups of high-fashion models and dramatic voiceovers. Suddenly, the curtain drops to reveal The Paint Studio at Ace — a beautiful boutique-style environment with helpful service, exciting selections, and vibrant colors. The spots, along with the campaign's other elements, play off of language commonly used in cosmetics commercials and highlight the natural connection of beauty and fashion to the home décor space.
"For years, women have expressed loyalty to their favorite cosmetics brands and the inspiring shopping experience that comes along with it," said John Surane, executive vice president, marketing, merchandising, and sales for Ace Hardware. "Ace and Valspar recognize the emotional response evoked by color and built the 'Helpful is Beautiful' campaign and The Paint Studio at Ace around this connection as a way to offer consumers a differentiating paint shopping experience featuring the brands they know and trust."
The Paint Studio offers every shopper the opportunity to customize their experience by using an innovative new colorant system that allows paint to be custom tinted to the broadest range of colors available. Similar to the beauty shopping experience, consumers also have the option to sample Clark+Kensington and Valspar colors before they commit through mixable color samples available for $4.99 plus tax at participating Ace stores.
"Valspar is committed to helping people find the perfect color to transform any space in the home," said John Anton, vice president & general manager, Ace business unit at Valspar. "Together with Ace, we are proud to bring this to life through the 'Helpful is Beautiful' advertising campaign which underscores the helpful Ace shopping experience and the beauty of our expertly-chosen color palette," Anton concluded.
To celebrate the launch of the "Helpful is Beautiful" campaign and The Paint Studio, participating Ace Hardware stores will be offering a series of exciting offers to invite consumers into their stores to experience their neighborhood Paint Studio Grand Opening throughout the month of May. In addition, on May 1 Ace is launching a brand new paint-focused website, 
thepaintstudio.com
. Created by GSD&M, the site is designed to provide consumers with an online hub to find inspiration, explore color and obtain helpful painting tips and how-to advice.
About Ace Hardware
For 90 years, Ace Hardware has been known as the place with the helpful hardware folks in thousands of neighborhoods across America, providing customers with a more personal kind of helpful. With more than 4,850 hardware stores locally owned and operated across the globe, Ace is the largest hardware cooperative in the industry. Headquartered in Oak Brook, Ill., Ace and its subsidiaries currently operate 14 distribution centers in the U.S. and also have distribution capabilities in Shanghai, China; Panama City, Panama; and Dubai, United Arab Emirates. Its retailers' stores are located in all 50 states, the District of Columbia and approximately 60 countries. For more information on Ace, visit 
www.acehardware.com
.
About Clark+Kensington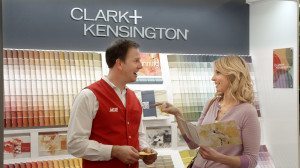 Clark+Kensington, a premium line of paint+primer in one, is available exclusively at Ace Hardware and its semi-gloss finish was ranked #1 by a leading consumer magazine in recent tests of interior paints. The paint line features designer-selected hues that cover the entire color spectrum and offers simple color selection tools to help customers find their perfect color.