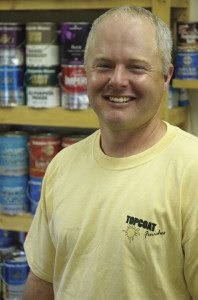 There is a saying about the way a job can get done – good, quick or cheap. The rule is you can never have more than two but for Scott Burt there is only one way and that is the best way. That drive for excellence has given Scott an industry wide reputation for mastering the techniques and tools for getting the absolute top results in all paint situations.
Everything else comes second.
His company is built on the same principle. Scott and his operations manager, Todd Pudvar, both left full time teaching jobs to build what is today one of the top painting companies on the East coast. Specializing in high-end new construction, Topcoat Finishes works with exclusive builders and architects on some of the finest custom homes in Vermont. The company's reputation for hands on custom work comes from years of identifying and mastering techniques, tools and materials for custom finishing and logistical challenges. And never compromising on quality.
But Scott didn't leave his teaching and English degrees completely in the past. He's become a regular columnist for
American Painting Contractor
, and has written articles for numerous national and regional publications. He's also an active online networker.
Creator of  
Topcoat Review
,  Scott writes and shares reviews on a variety of paint products, tools and equipment, as well as insightful business topics. The Topcoat Review team regularly gets the opportunity to work with manufacturers at the development level to test and review many new products before they are introduced to the market. His feedback often affects the final product that comes to market.
Scott, a self-proclaimed "wood snob" spends alot of time in the Topcoat shop messing with wood and finishes. Taking an old mistreated table, door or deck, stripping, sanding and bringing it back to it's original beauty is a favorite pastime of his and something he loves to write about.
Scott also contributes his
writing skills and industry knowledge
as the Director of Content and Editor here at Blogging Painters. Chris Haught, who co-founded Blogging Painters with Scott says, "his inspiration and guidance during the creation of this site and continued support is invaluable, he truly has his finger on the pulse of the industry and is able to share those insights in a way that  others may benefit."