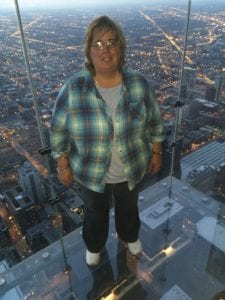 In every industry there are trailblazers. Individuals determined to carve a new path and find better ways to get the job done.
When it comes to the painting industry, Chris Haught of  is one of those trailblazers. Not only did Chris and her partner/husband Rob own and operate a successful painting company in Southwest Utah, but Chris has become one of the leading experts on what paint contractors need to know about online marketing, websites and social media.
"I am a media specialist, so I get to work with kids and teach them how to use technology in today's world." explains Chris, "I love to teach and share so it was inevitable that would spill over into the painting world."
And Chris has does more than just share her knowledge. She is a contributing writer for The Paint Contractor and a  past moderator on the very popular paint industry online forum Paint-Talk. Chris is also the founder and driving force behind Blogging Painters.
Chris is relentless in the pursuit of advancing the paint industry, one paint company at a time.
"I knew if I created a venue for those in the painting industry to come together and share resources, we could all benefit from each others experience and talent."
Blogging Painters has done just that. The site has grown into a premier online resource, rich with information on marketing, product reviews, industry regulations and project profiles for anything related to professional painting.
Both locally and online, Chris helps paint contractors and other business people design and develop websites, blogs and social media presences for their businesses. She works with both new contractors just starting out building a web presence as well as collaborating with well established companies that want to take their website to the next level.
"I love working with a paint contractor that is skeptical of the benefits of using the Internet. I help them find an online voice and identity that they can build on then watch them run with it. Before long they are seeing how their website and blog generates and qualifies leads and they are hooked."
Her latest project was the re-launch of TopCoatReview, an extensive online resource for paint product and equipment reviews. Scott Burt, owner of that site, adds: "Chris made it really easy for me to go through what I expected to be a stressful transition with my site. I have a lot of contacts online, and I trust Chris more than anyone with my content and online presentation. The platform Chris put under my site has made it much easier for me to maintain and grow, and a much better experience for my readers."
Chris has broadened many digital footprints so far, and is considered by her peers to be an emerging paint industry influencer.