What are your business plans for 2013?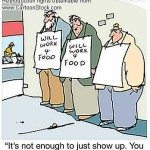 The last few weeks have been tough; you have had to lay guys off because of the winter, you are struggling to fill up your board, you wonder if you will make it through the months ahead.
Of course you will!  This is because you are in the habit of planning and communicating that plan.  Now, we are going to look ahead and plan for 2013.
Where do you start a business plan?
The first step in creating a business plan, is to take a moment to reflect on the last year.  What worked, what didn't, what can you improve upon.   By identifying your struggles and successes you are in a better position to use them to your advantage.
Take those issues and hold them up against your Vision, the roadmap to your company.  Did they reflect where you want to go?  Perhaps some of your struggles may be a result of not keeping your Vision in mind as you ran your business.  How do they support your Mission, the purpose of your company?  Pull back and look to see if you were making decisions based on that purpose.  Look at your Strengths, Weaknesses, Opportunities and Threats.  This assessment allows you to have the Big Picture of your company in mind.  Pay close attention to both your weaknesses and your opportunities.  These can frame what you need to do to prepare for next year.
Now you are ready to look to the future.  You have both your Vision and your Mission at the ready.  This is important as you want to be sure you are focused on the global state of your business, not just the scheduling calendar.  It can be difficult to remove yourself from looking at the everyday needs of your business but, if you can do it, you will find that those needs then are easier to drill down on and deal with.  Take the time to identify, now, what your annual objectives will be.  Include revenue goals, customer satisfaction rates, leads and gross profit.
With your goals in mind, develop strategies to achieve those goals.
What do you need to do to surpass $1 Million Dollars in sales?
How will you incentivize your team to get stellar customer report cards?
How can you control your expenses to achieve the profit you are looking for?
What kind of Marketing can you do to increase your leads?
With these goals, you can create an Action plan, directly related to your Vision, with clear dates identified for completion and those people who are responsible for meeting them.   Who, on your team, will be monitoring monthly goals? Who is looking at your P&L regularly to maintain an eye on gross profit?  How will customer report cards be evaluated?  Action items not only need to be assigned to someone, they need due dates.  This creates accountability both for yourself and your team.  Take the time to communicate what the action items are and be sure that everyone understands the timing.  You can not over-communicate this as it is essential to the running of your business.
Your action plan is a one year breakdown of where you want your company to go.   Make sure you have a business plan to work on your weaknesses and that you continue to emphasize your strengths.  This is the time to evaluate, plan and move forward!
Happy Planning!