Next week is the PDCA Expo in Las Vegas, will you be there?
The Blogging Painters Team will be there in full force! Heidi Nyline will be talking SEO with Todd Heskett, Scott Burt will be showing painters how to use Festool, Tommy Johnson will be checking out the latest products to review and I will be there to report on what Brandt Domas and Mike Jeffries have to say about about the industry. We will be updating live from the show, so make sure you are subscribed to the blog, following us on Twitter, (look for #2012Expo) and follow our Facebook page.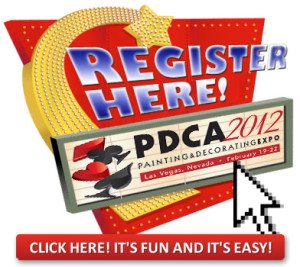 Industry Highlights
The list of presenters is a "who's who" of the painting industry! Where else could you listen to Bob Cusumano talk about estimating in the morning and Debbie Zimmer on building relationships in the afternoon? Not to mention all the presenters in between!
It's Vegas, let's party!
Benjamin Moore will be hosting a Vintage Vegas Party on Monday and Sherwin Williams will be rockin' at the Harley Davidson on Tuesday! 
The Trade Show
There are close to 50 vendor booths set up, where you can learn about the latest trends and products, I hear Festool will have the Planex (available in March) for painters to test drive and there will be many other opportunities to interact with vendors! The PDCA has done a stellar job of bringing the industry together!
Time for fun!
This is a great opportunity to meet like minded contractors, we hope to connect with as many of our readers as we can, if you are attending, meet up with us on the outdoor patio at the PBR between 5 and 6 on Monday! Look for the Blogging Painters Hats! I'll have a few to give away! See you there….