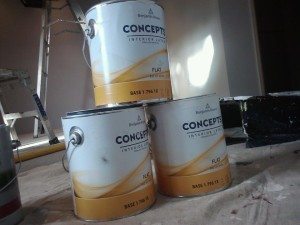 If you are familiar with Benjamin Moore, then you are familiar with the quality paints they produce available in the 1,000's of colors they offer.
Well, this week (after taking a nice 2-week break from my life) I was introduced to a new product from BM called 'Concepts'. It's a new line of paint bred to compete with the big-box stores – Home Depot, Lowes, etc. The price point is around $23.99/gallon which is even better than Behr Ultra Premium Plus and beats a lot of the Valspar products as well. The 'Concepts' product is a low-voc, waterborne product using the latest Gennex colorants. For non-technical folks, these are the colorants you want!
Mod Paint Works rolled about 1,500 sq. ft. of ceilings yesterday with 'Concepts' in flat sheen. We were blown away by the coverage (mind you we were rolling on knockdown texture), the lack, or should I say non-existence of splatter, and the minimal odor. It blew away it's price-predecessor, Super Spec (a contractor grade paint), by a mile and offered a beautiful finished ceiling at $23.99/gallon.
I believe this paint, especially at the cost, will make a huge impact on the market for contractors and homeowners alike. If you're a DIY homeowner/painter, I highly suggest you make a move from HD or Lowes to your local BM paint shop for some 'Concepts'. You will enjoy the difference!