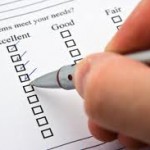 How many times have you had a customer tell you how much they loved the transformation of their home after you were done?
Did you just smile,  pat yourself on the back and move on? Do you have a system for collecting customer satisfaction surveys?
Do you have a well thought out survey asking specific questions?
Do you offer an incentive for completing a survey?
Do you have a hard copy you leave with them, hope to get it back and then don't know what do with it?
Give it to the customer at the end of the job with a self addressed stamped envelope.
Scan it and post on your website.
Create a page with the testimonial, project photo and job description.
Do you have places to leave online reviews (Google, Merchant List, Angie's List, etc).
Make sure your profiles are filled out.
Send them an email with links to the sites.
Set up one page on your site with the links.
Here are four easy ways to make customer feedback a core part of your business.