BENJAMIN MOORE® DEBUTS LIMITED EDITION FENWAY COLLECTION
The Fenway Collection Brings the Spirit of Boston's World-Famous Field to Homes & Ballparks
 Montvale, NJ– July 28, 2014– Benjamin Moore, North America's favorite paint, color and coatings brand, is commemorating its 12-year partnership with the Boston Red Sox with the launch of The Fenway Collection, a limited-edition collection of paints featuring the iconic colors of Fenway Park. The Fenway Collection is now available exclusively at select New England-area Benjamin Moore retailers.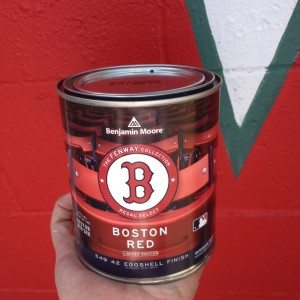 The Fenway Collection encapsulates the spirit of Fenway Park by bringing together the ballpark's five most iconic colors, including Green Monster, Boston Blue, Boston Red, Baseline White and Foul Pole Yellow. Each color is available in Benjamin Moore Regal® Select Interior Eggshell, ideal for living rooms, dining rooms, bedrooms and hallways. The collection's hallmark color, Green Monster, is also available in Benjamin Moore Regal® Select Exterior Low Lustre. In addition to being sold by the quart, Green Monster is available by the gallon. Suggested retail prices for all colors in the collection are $24.99 per quart and $54.99 per gallon.
To celebrate the collection's launch, Benjamin Moore and the Boston Red Sox joined forces to transform Bunker Little League Park, located in West Roxbury, MA, into a "mini Fenway Park" by repainting the field with the collection and constructing a miniature Green Monster. The surprise renovation of the remodeled park, which was completed overnight, was a group effort made possible by local Benjamin Moore volunteers, retailers and contractors to bring this gift to the neighborhood. Players from the Parkway Little League enjoyed their newly renovated field in a match up on July 18, 2014.
"Our collaboration with the Boston Red Sox and Fenway Park is truly special, and we're excited to bring these colors beyond the stadium and into the lives and homes of their fans," said Rich Gaudino, Benjamin Moore Director of Sales, New England. "Fenway is such an important ballpark and brings together so many people, and we are really privileged to be able to help transform New England little league fields with this collection."
"We have had a long and successful partnership with Benjamin Moore and we're pleased the colors of Fenway Park will be available to people throughout New England through this limited edition paint collection," said Red Sox Senior Vice President Corporate Partnerships Troup Parkinson. "It's a great way to pay tribute to our 12-year relationship, and we look forward to our continued collaboration with Benjamin Moore."
As an affirmation of its commitment to this American heritage sport and the Boston community, Benjamin Moore is committing a percentage of sales from The Fenway Collection to repainting additional little league ball fields in the Boston area.
To learn more about The Fenway Collection and to find your local retailer visit, BenjaminMoore.com.