Operating a painting business is hard work.
Working in a painting business is hard work.  I have such respect for professional painters and their hard work and commitment to the craft. We are constantly struggling with a balance between fine finishes and turning a profit.   Margins are ever present in our minds as we plan our day.   Safety issues abound as companies hire and train employees.
When I started in the painting business back in the late 70's and early 80's I used to "grind" lead painted Victorian houses with a big, old Porter Cable sander, dust mask, and vacuum handy to clean up the mess.  That sweet taste of lead paint in the back of my mouth is a memory I long to forget (hopefully that's all I'm forgetting).  As time went on, we "evolved" to the Makita GV5000 disk sander that "squealed" obsessively and I'm sure it is the reason today my kids complain to my wife about, "Dad's lack of hearing."
Time to change…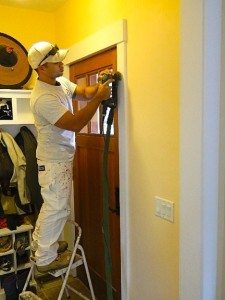 Currently, we have moved out of the dark ages of paint removal and into the world of Festool.  I have to bow to the fine German engineers, as they have made the Cadillac, Audi, BMW, and Mercedes of paint removal equipment with their fine line of sanders.  Whether you are sanding interior trim with the RO90 or removing paint from exterior clapboards with the RO 150, Festool has engineered safety, efficiency, and quality into an unmatched system. All of their sanders attach to an EPA certified HEPA vacuum unit that comes in three convenient sizes.  Festool's slogan is faster, easier, and smarter.  They could add safer as well.  They think of every little detail, like built-in cord storage to avoid tripping.  Noise levels that have been reduced when operating the machine.  A foot brake that actually works, so machines don't tumble down a stairway.  Additional safety features are the ergonomically designed handles on all the machines for ease of use.   Nevertheless, for me the ultimate safety feature is the near total dust extraction and good-bye to that sweet taste of lead dust!
Dan Frost