As a small business owner/ internet marketer you probably understand that ranking your website high in the major search engines can help you in gaining more leads, and selling more jobs.  Measuring your search engine rankings and your SEO progress and results has become easier over the years thanks to the introduction of a variety of tools aimed at measuring and monitoring SEO statistics.  Read on to discover what tools you can use and how to implement them in your monitoring and tracking activities.
Tracking Search Engine Rankings
Measuring your rankings on a daily basis is often one of the biggest mistakes I see being made. Ranking fluctuate on a regular basis based on a multitude of factors. I recommend tracking your rankings, but not stressing out if you see unexplained drops.  To get a good snapshot of your true rankings and traffic I recommend looking at it on a month over month basis.  There are numerous tools, both free and paid, that can assist you with tracking and monitoring your search engine rankings.
Rank Checker Ace – Rank Checker Ace is one of the best free tools available for tracking your rankings and monitoring your SEO progress and goals.  You will need to sign up for a free account, which only requires you to make a username, email and password.  After confirming your account you gain access to the dashboard where you can input your websites, verify your ownership of said websites, and start monitoring them.  This tool includes a variety of  racking and monitoring functions including graphs of your rankings along a time/ranking basis, advanced tracking graphs and other advanced fun stuff.
The below is an example ranking report that you can pull. This is from an actual client of mine.
Advanced Web Ranking – This is a paid program which costs $99 per year.  This is a downloadable software which can be combined with the Advanced Link Manager program, developed by the same company.  These tools allow you to track rankings, monitor your goals and track backlinks.
Rank Tracker – This software costs $89 for a six-month license.  There is also a free trial edition which can be downloaded as well.  This program is great because most of the checks, monitoring and tracking functions are completed automatically, meaning you won't have to spend much time monitoring your websites, freeing up time for more valuable projects and work.
Tracking and monitoring your search engine rankings is important so you can see how your websites stack up against the competition, and to see how well your efforts are paying off in the form of better search result rankings.
Firefox Private Browsing
Learning how to use Firefox Private Browsing (called Icognito Mode on Google Chrome) is important when it comes to tracking your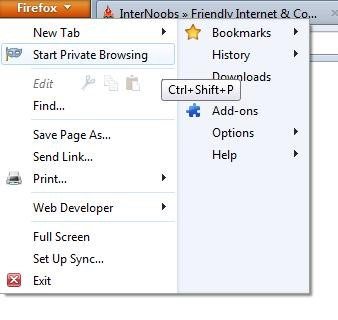 rankings while logged into the Google platform.  Incognito mode is enabled through the Google Chrome settings, or the general Google settings available on your profile.  Enabling incognito & private browsing mode disables cookie and browser tracking history, meaning the ranking results you get are not tied into your personal search results – something that can often skew your results in a favorable trend. Incognito mode is different from the "hide/show" personal results option in analytical tools in that you'll no longer have to key in your specific IP every single time you want to access your site. This allows you to "check into your site" – from any browser or IP location using Incognito mode – without impacting your stats.
Determining your Primary Keywords
Knowing which keywords to track is very important.  If you did proper keyword research (which you can learn more about here) when you built your website you should simply track the primary keywords you built your website around.  If you run a larger authority website, there may be hundreds of additional "long tail keywords" that you were not intending to rank for.  Knowing which keywords your website is ranking for is important when it comes to properly monitoring and tracking your websites.  You can use the official Google Webmaster tool to see which search queries your website is ranking for.  You can also use the Bing Webmaster Tools to explore your competition's keywords and see what type of keywords your competition is ranking for. You may feel more comfortable with one tool or the other, but should try to leverage both as often as possible.
Analytics and Webmaster Tools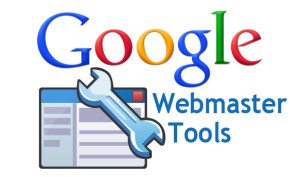 Google Analytics and Google Webmaster Tools are two of the top free programs made available by Google that are used for tracking and monitoring your rankings and backlinks.  Google webmaster tools is great for seeing what keywords your website is ranking for, tracking your website rankings in the Google search results, and seeing where your visitors are coming from.  Google Analytics is better for completing more technical analysis of your website, such as how long visitors were on your website, what the bounce rate was, and from what locations in the world your visitors are coming from. Tracking your traffic to your home page and interior pages provides you the kind of insights needed to optimize your traffic paths in line with your goals.
Using these tools, you'll also be able to instantly track the impact your organic and paid SEO efforts are having on your goals, just by tracking impressions (how often your site is served up through the Google AdWords network), CTR (the click through rate percentage detailing impressions versus visitors to your site), as well as any number of other custom milestones you're trying to gain more insight into.
It's important that you ensure you are tracking your domain name with either the www. prefix or without – including a 301 redirect for the other option. Though most people assume that www.mysite.com and mysite.com are the same thing (and in most instances they are), applications and analytic tools do not see them as such. A proper tracking code to a naked domain (mysite.com) with a 301 redirect for the other will give you the accurate stat representation you need.
If you're looking to really dive into the more advanced features of the Google Webmaster Tools – or just want to understand all of the options at your disposal – this video should help you get started!
4 Takeaways
The following four tips are crucial when it comes to properly monitoring and tracking your websites.
Sign up for a free rank tracking program and check your stats at regular (monthly or so) intervals.
Ensure you have Google Analytics installed and configured for your websites.
Enable Google Webmaster Tools for your websites so you can track rankings and see what keywords your website is currently ranking for.
Utilize Google Incognito mode when checking rankings to ensure your results are not positively skewed.
Following the above four tips, and the rest of the advice presented here will give you a leg-up against the competition when it comes to tracking your website's rankings, monitoring your keywords, and investigating your website's backlink profile – something that is crucial for gaining additional rankings.
Need help with your online presence? I'm just a call or email away. Contact me through my website and I'll let you know where I think you can improve your online presence.