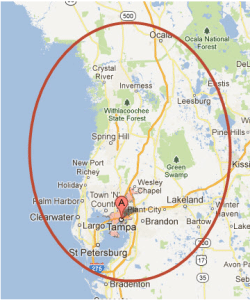 The good news: local search is an awesome tool for getting ranked and for promoting your business. The bad news: it creates real problems for people who service customers in their own home and who want to rank inside of their entire service area.
However, those problems do not mean that you have to give up on local search altogether. You just have to use more than one tool to help customers inside of your service area find you.
Claim Your Listing and Hide Your Address
If you haven't done so already you need to go ahead and claim your Google+ Business page. Once you've done that you can start adjusting and filling out your information.
The whole process seems rather self-explanatory, but there are some pitfalls. Fortunately, avoiding them isn't that hard.
First, you need to hide your address. That is what Google wants you to do if you go to your customer's homes rather than having those same customers come to you.
So as you fill out your profile you need to select "Do not show my business address on my Maps listing." Then you can designate your service area by choosing "distance from location" or "list of areas served."
Local search expert Linda Buquet suggests selecting the "distance from location" option and setting a 20 mile radius on that option. Listing a whole bunch of cities or zip codes can actually cause Google to place your map "pin" in strange places. Some service providers have found that Google is telling people that they do business from the bottom of a lake, so take this seriously.
She says if you work in a huge city then the alternative option would be to choose "list of areas served." Then you would simply enter "City, State," while removing the zip code. This usually inspires Google to place your maps marker in the city center, where it will rank very well and bring in a lot of business.
Don't Sweat It if You Don't Rank in Google Places for Every Town
You're not going to rank for every town that you serve. Unless there's just not that much competition out there you will generally only rank for the city listed in your primary physical address.
Don't sweat this and don't try to work around it. It's not a huge deal. Get the leads that you can from your Google+ Local listing in your primary city, then move on to using the next tool.
Target Organic Search Results for Service Area Cities
Organic search is the next tool. Here's how it works.
So you serve Brandon, FL but your primary location is in Tampa, FL. Google+ Local won't rank you for Brandon. Now what?
Now you go back to your blog. Make sure you're adding the word "Brandon" to your posts, whether by referencing the city directly or by adding it to your bio at the end of your posts.
Organic search results still bring in leads. You can still rank #1 for Brandon, FL Painter in organic results even if the Google Places results don't display your business.
And since sometimes the Google Places results don't show up for smaller towns at all, organic search will serve you  just fine. Observe how this works for one gutter contractor serving Brandon, FL.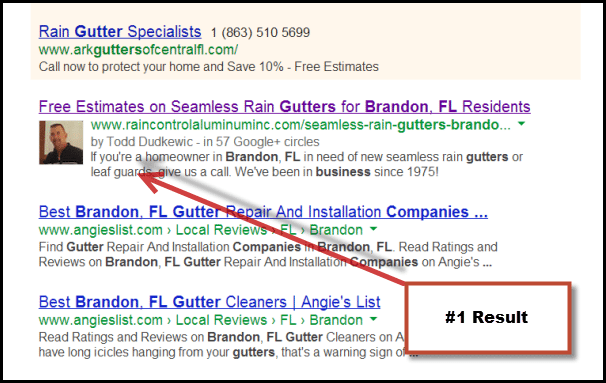 It also doesn't hurt to devote an entire page to the city of your choice, but you should only do this if you can find a way to make the information on that page incredibly unique and useful.
The Bottom Line
Google Local is just one tool in your local search tool box. Don't try to trick Google into dealing with your entire service area. It's just not necessary and it will hurt you in the long run. Once you've given Google the 20-mile radius rule, move on to organic search to make sure all of your customers can find you.