I often find that contractors use photos to showcase their work to potential clients. They have albums (either online or off) of project photos they've completed, and often have a "portfolio" button on their website that presents some of their best work to visitors. Even though these photos are stunning, they don't even come close to providing the impact that you need to compete in today's market.
In today's world, it is easier than ever to shine a light on your noteworthy projects and create a memorable impact – by writing a simple project spotlight.
Although photos are wonderful in showing off the detail and the high-quality level of work that you do, they only tell half the story – to create the "wow" and memorable impact you are looking for from prospects, you need the story part, too.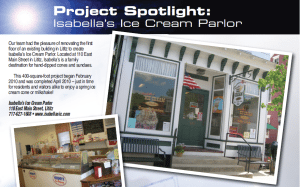 Don't fret! The story to complement your photos doesn't have to be lengthy. Some of the best project spotlights just give minimal details of the project. They are simple.
Here's a project spotlight that only uses two photos, but look at the impact it makes. The copy provides the background of what the client wanted, and the solution this remodeler provided – using minimal details. Short and sweet (pun intended).
What do you do when you have a lot of photos but not much "story" to go along with them?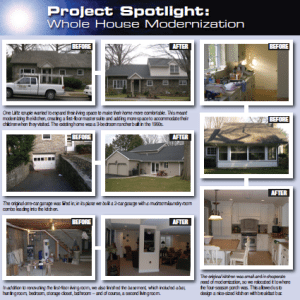 With this project, we created a collage of "Before" and "After" photos to help the readers (i.e., potential customers) understand all of the "little things" this remodeler did to update the home – from the exterior to the basement to the kitchen.
What if some of my projects are boring?
Let's face it. Sometimes a contractor's work isn't "sexy" – not the most exciting to photograph. Contractors replace windows and fix doors, and painters refinish tired-old surfaces – all of which (it would seem) would be difficult to turn into a project spotlight. However, I have an excavating contractor client who has taught me that even within the dirtiest jobs a story lies.
In an issue of its online newsletter, the excavator used this photo with the caption: 18" of snow, 4+" of rain and a "spring thaw" – all within a 7-day window – did not deter our team from completing a 1.6 million gallon impoundment under the allotted time.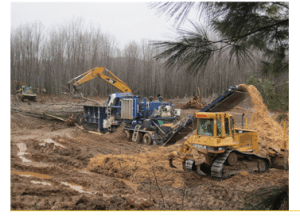 If that doesn't make an impact to his potential clients, I am not sure what does! Furthermore, if an excavating contractor can make pushing earth exciting, imagine the possibilities for your specialty!
So instead of only posting photos on your website's portfolio page, why not take a cue from these examples and give your visitors a "story" to accompany them. I guarantee your visitors will spend more time on your website – and when it comes time for them to hire a painting contractor, you'll be remembered.