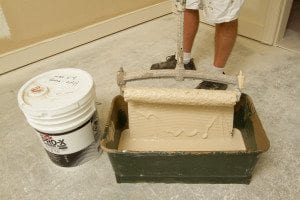 KILZ PRO-X paint series offers both a high-hide commercial grade paint line as well as advanced application properties such as superior touch-up, excellent hide and maximum coverage for professional painters. In addition, the series includes primers like a PVA Drywall and Block Filler primer. More information on the pro paint series here. 

Have you tried it? Let us know by filling out the form below!
Kilz Pro Series
★★★★★
"
Yes , I have used it and almost every other paint that is available in my area her in New Jersey. Being a small shop myself and one man , I like to be hands on. While using the Dead flat for ceiling I would notice almost no splatter and made a comment to my man , he states I like this and it covers like a bandit. So for the last year or two that is the ceiling paint for us. Have done several new houses after Super Storm Sandy , to be competitive we used Pro Eg shell and was really impressed with the roll out and finish . Try it you will like it\r\nHarold in New Jersey
"
pro-x 330 eggshell
★★★★★
"
The very best wall paint on the market for the money. It is a true eggshell less shiney than most. Great coverage. Paint goes on nice and smooth.
"