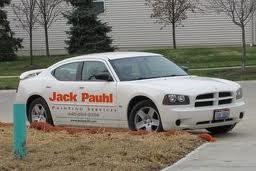 We all have our "go to" sites, you know the ones, they are usually bookmarked or always open in a tab. The ones that we depend on to keep us up on the the latest trends, tools and topics. Mine are usually Social Media or Business related, but lately I have been checking out a different one, Maximum Painting.  From his "About Us" page.
JACK PAUHL is a paint contractor also providing services to other paint contractors to incorporate key product and systems integration to maximize profitability by efficiency. "The least I do is paint, it just happens to part of the equation."
I like his writing style, here he talks about the 11 Skills Every Painter Needs to Possess, I bet he has those skills and more! Check out his site for the latest product reviews, production methods and industry news.