You can apply Mythic primer to any surface and finish in any colour in a selection of finishes. This is a snapshot of a project I am doing in tandem with TDS, Mythic and Llama Developments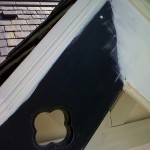 Here we are redecorating woodwork that was previously painted with black oil-based gloss at least 5 years ago. It is rough, there are knots still active and spiders love the nooks and crannies, so prep has to be a lot more than a "quick flick over" with hand held sandpaper.
We sanded down with 80 grade abranet using various power sanding devices. Vacuumed surface clean.
This is the first coat of Mythic Multi Purpose Primer. Covers OK over black, seals knots, and cures with very high adhesion !!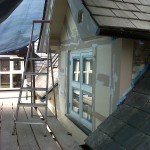 We then fill dings and dents with Toupret fillers. Murex we use for big holes, overfilling with the smoother TX110 Toupret "polyfiller". We sand the whole surface with 180 grade abranet, and vacuum surface clean before applying second coat of primer.
We tint the second primer to suit the finishing colours for each surface. Mythic paint AND colourants are VOC free. Coverage is excellent.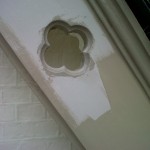 Any missed filler / filling, we sort that out and spot in with primer.
We apply Soudal acryrub caulk to all open joints.
This caulk dries in an hour and in 6 months, I am yet to see it let go.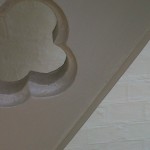 This is that black gloss bargeboard after the first coat of Mythic semi gloss trim enamel. We apply 2.
Mythic seems thin, but it is a dream to apply by brush, roller or spray with minimal mess. It also dries very fast, especially the satin and flat paints for exterior masonry. In NW England in "summer" – priceless.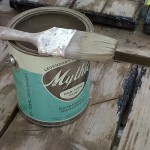 Brushing – I dip my brush into the paint and then scoop and twist, rather than dip the brush in and dab against the side of the kettle. Even on a windy scaffold, the paint stays on the brush  as expected and lays off really well.
As you can see on the 3″ Wooster Ultra Soft, the brown semi gloss paint is still well clear of the ferrule after an hour of brushing fiddly gable ends. ie this paint is not pissy runny and does as it is told.
Rolling – We used mini rollers and floppy Polar bear sleeves to coat the brickwork with the satin exterior latex. I have 3 able Llama Developments helpers, none experienced painters, but the paint went on like pros and they all noted the lack of spatter. Zero, nada zilch.
View so far
Mythic does what it says on the tin in terms of ease of use and clean to apply, no odour and all the good eco stuff. The primer is very tenacious and has excellent coverage. The semi gloss finish on the barge boards of this older property looks fabulous – an understated sheen, rather like high gloss after a year outdoors! And the semi gloss white window frames are very classy.
Obviously this is a report on the application of Mythic paint. For durability, we have to believe
a) with my own eyes, the performance of the primer over several months on many different surfaces has been almost faultless, after  curing for a few days, it is on there.
b) reports from other sources that the trim enamels and wall paints are tough in abrasion tests.
c) general knowledge that latex is a flexible durable paint proven over many years to be a great choice for exterior surfaces.
d) the finish coats look solid and feel solid and don't scratch easily.
Time will tell if the paint used on the Pentagon and the New York Subway are up to the lesser rigors of UK weather
About the Author:
I have been in the decorating trade since the early 80's. Lucky enough to travel, study and work in Europe, US and Africa, I have a broad skillset and eclectic product knowledge. I am happy to learn new techniques and try out the latest greatest snake oil products. On my Traditional Painter Blog I regularly share useful painting tips & tricks.
Andy Crichton