Sales Department
The Sales Manager should have good strengths as a leader, and not lacking experience with commercial painting in general. He/she specifically needs expertise in dealing with general contractors and with contract administration. This person's skillset should also include managing the estimators under his/her supervision.

Plan – General Contractors

With respect to dealing with general contractors, there are several strategies by which you can achieve success. The first step is to identify which of these contractors you actually want to work with. The criteria for this should include: The location of the majority of their projects (Are they within your area of operations), their reputation for success, their volume of work, (which is an indication of the potential opportunities for your company), if they are known to be honest, whether they are easy to work with or not and if they pay their subcontractors on time.

Once you have compiled your target list of general contractors, you should task your Sales Manager with building relationships with each of them. It is a proven fact that "relationship based" work will yield far more opportunities, greater profits and less stress. Case in point, just think of the success ratio of the painting contractors who spend their time in the Plan Centers or in responding to openly advertised projects. This approach leaves them at the mercy of a system that only cares about the "Lowest Bid". There is little to no room for discussion or for a chance to show why your company actually offers a better value. When I have asked my key customers what their main focus is, with regard to selecting subcontractors, "price" is not on the top of the list. It of course matters, but they consistently indicate that their biggest concern is to hire someone who:

Is responsive.
Can get the job done on time.
Maintains a consistent presence on the job.
Has qualified, experienced painters.
Who are easy to work with (flexible)
Will not hit them with excessive Change Order requests
You, as the owner of your company, should also be involved with this relationship building process, and understand that it is an ongoing endeavor – a way of doing business. By including yourself, you are sending the message that their account is very important to you. The added benefit is that you are reinforcing your Sales Manager's efforts, and are keeping your company in the front of their minds. Even if they have a favorite painter (or three), at some point one of them will likely fall out of favor and, you will be well positioned to step in. I should point out that one of your initial steps should be to request that they add you to their list of "preferred vendors". If they seem hesitant, you can ask them to give you a chance, on a smaller project even, to show them that you can be an excellent resource for them.

Part of this approach should include the usual introductions and exchanging of business cards. It is very important that you do not meet with only one estimator or project manager. Your goal should be to make sure everyone who might have an impact on your company being included in bidding opportunities is aware that you exist. This can include all owners, project managers, estimators and the people involved in actually sending out bid invitations and other assistants. This was impressed on me when I realized that I had established excellent relationships with three or four project managers at one of the major general contractor's office. The eye opener came when I realized that they actually had twelve project managers; wasted opportunities.

When I started achieving success at building such relationships, I noticed that when I would walk into a general's office that people would greet me by name. It became a fairly common occurrence that one or more of them would call me aside and ask if I could take a look at a project they had coming out to bid. I also noticed that my phone began to ring more and emails increased from them, asking for pricing on projects. It got to the point, after a couple of years that I hardly needed to look for work – it just came to me. This is the position you need to work toward. It not only will increase your opportunities, but your "hit rates" will go up due to the fact that you are not scrambling to outbid twelve other (low ball) painters. Most of the generals that I bid to had a preferred list of three or four painters – much better odds. One other tool I would mention is for you to attend Job Walks. These can be used for Networking as well as for checking out the competition.

Part of your approach can include taking people to lunch or ball games/golfing or? You can also bring food trays to their offices at Christmas time etc. These gestures can help to set you apart from your competition, and create an opportunity for positive, non-work related interchanges and Relationship building. These efforts, in addition to excellent job performance, can have an impact on how customers feel about you. I have even had a number of people tell me "I just like doing business with you." To a fair degree, it comes down to chemistry, and the fact that people want to work with someone they like.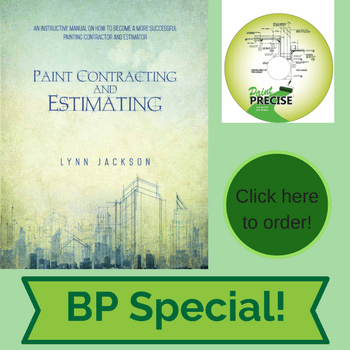 Lynn Jackson www.paintprecise.com