Scuffs, Scratches, Nail Holes or Crayon Marks?
The holidays are around the corner and like everyone else, getting ready for your guests can take time and money, especially when it comes to painting or drywall repair!  Look no further, as DIY just got easier!  Check patching and painting off your "honey-do" list immediately!
Patch Paint 'N Go The Holes in Your Wall!
What about the minor drywall repair you have been putting off?  This project is easy for anyone with Patch Paint 'n Go an all in one drywall repair kit that comes with Color-Glide Pro paint applicator tubes. Each kit comes with mesh tape to repair damaged walls, drywall powdered plaster, mixing spoon, plaster spreader card, sand paper, paint applicator tubes, and paint transfer pumps. The patch kit includes 3 powdered bags of plaster that need to be mixed with mater to activate.  Kit includes mesh wall repair tape, mixing spoon, spreader card, and sandpaper.
Paint 'N Go-Easy Paint Job and No More Storing Paint Cans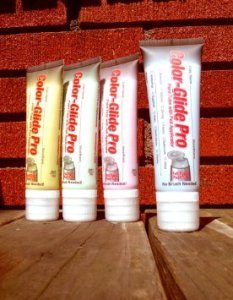 Paint 'n Go with Color-Glide® Pro paint applicator tubes are designed for fast, clean and easy touch-ups which is unusual for home paint jobs.  Say good-bye to ugly paint cans and the big hassle of setting and cleaning up for a minor paint jobs or touch-ups.  Simply use the paint transfer tubes to fill your Color-Glide Pro paint applicators with the matching paint color and touch up the needed area.  Write directly on the tubes any information you want (color), store as many tubes as you want and eliminate bulky paint storage at home! Use a fraction of the space a paint can would.  Watch how easy it is! Color-Glide®Pro Demo.
Everyone is tired of gimmicky products that promise to save you time and money? Once in awhile there is company that delivers REAL SOLUTIONS to REAL EVERYDAY PROBLEMS like the Paint 'n Go and Patch 'n Go with Color Glide®Pro Applicator!
Purchase @:  www.colorglidepro.com