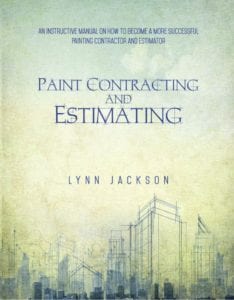 Lynn Jackson has been in the paint contracting business for many years, and has recently published his own book, DVD and CD to help others to provide accurate estimating and proposal systems. Check out his site Paint Precise to learn more. If you have tried his methods, leave your thoughts below and let others know what you think!
Lynn has been a frequent contributor to BP and we welcome his expertise!
Paint Precise
★★★★★
"
The Paint Precise program is paint specific and very user friendly. By using square footage, linear, and each type of measurements the estimator is able to quickly and accurately price any type of painting project. This program lets the estimator use historical data on production rates which takes "guessing" out of the equation. I am a user of Paint Precise, and would recommend it to the novice or seasoned estimator.
"
Paint Contracting & Estimating
★★★★★
"
I just received the book and CD. Unfortunately due to the time of year I haven't had a chance to read the book as we are extremely busy. However, I have thumbed through the book and it looks very detailed and I am looking forward to reading it and putting it to good use.
"
Paint Contracting and Estimating Book
★★★★★
"
Solid book all around. I thought Lynn did a great and thorough job of covering all aspects of being a paint contractor. He uses his own personal experiences to help others past the learning curve or help others fine tune their approach to the painting business. It's apparent that his values are exceptional and truly wants to help you be more successful with the amount of information provided in this book. Unfortunately, I can not review the estimating CD program since I don't have a CD player on my MacBook. If I decide to get an external CD drive then I will review it separately. Love the book though.
"
Paint Precise Estimating
★★★★★
"
I have not had a chance to read the whole book yet but so far what I have read he did an amazing job helping me understand a lot better. I give it 5 star rating for sure.
"
paint precise book
★★★★★
"
Lynn has done a great job. The many years of experience and insight into the industry show. Even a seasoned veteran of nearly 40years like myself can still pick up a point or two that can have immediate results. Read and enjoy.
"
Paint Precise Estimating
★★★★★
"
A very informative and useful book & cd platform. The book especially has very practical information for contractors of all types and sizes, even though it comes from experiences from primarily large commercial companies. The book makes it evident that Lynn is very knowledgable and experienced in his field. I'd like to offer my thanks and gratitude to him for providing free copies to all of us.
"
Paint precise
★★★★★
"
Excellent guide cover to cover! Not only is the estimating portion detailed and easy to read... it offers a lot of pointers towards running a legitimate painting company. One thing f the best ones out there geared specifically for the painting industry.
"
5

out of

5

based on

7

reviews.
Overall rating: