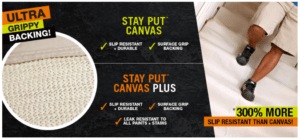 300% more slip resistant than 8oz canvas, the Stay Put™ Canvas by Trimaco gives you slip-resistant protection that stays put. The drop consists of two layers—absorbent canvas and a durable non-slip backing. Use the canvas side up to keep tracking to a minimum. Protect your jobsite with the Stay Put™ Canvas.
From the Trimaco Website (Thanks to Trimaco for sending out samples to our feedback team.)
Thanks to Danny Arey for providing some video!

Stay Put Drops
★★★★★
"
This product is made of high quality material and stays put just as the manufacturer claims. My painters love them and we will definitely be purchasing a lot more as this will be our go to drops going forward.
"
Stay Put Drop
★★★★★
"
Came out of package fairly stiff. I smoothed it out, but was waiting for a peak to pop up that i would trip on. Stayed put! Used it on an exterior patio, aggregate surface. 15mph wind gusts and dragging a 24 foot little giant across it didnt move once. Stayed exactly where i laid it. Id say the best part of this product was the surface gripping for me. I dont know how they got the "stays put 300% more" metric. But it stayed put at least 296% more than normal flimsy drops. And the canvas portion on top eliminated slip hazards even qhen we got rained out. Awesome product!
"
-
Michael @ Craine Painting LLC
Stay Put Canvas
★★★★☆
"
When painting on hard surfaces, one of the most challenging things is to keep your drop clothes from sliding away from the wall. Trimaco solved this problem by attaching the material you put under area rugs to stop them from sliding to their drop clothes. The drop cloth stays put as advertised. The material seems to be made of high quality. My only questions would be in regards to normal wear and maintenance. I can only assume that the grip will lose its effectiveness over time through contamination. Is there maintenance to prevent this? Some contractors like to wash their drop clothes so will doing this damage the material? I gave the product 4 stars only because of the questions the added material presents. My immediate rating is 5 stars for how the product performs.
"
Stay Put Drop
★★★★☆
"
I found the Stay Put Drop to in fact stay put where I dropped it. The backing is the most secure of all other similar type drop cloths and while in it's current state I would give this product a five star rating, I have concerns about the longevity of the backing. I have the same type of pads for rugs at home and after some extended use and a washing, their ability to be "grippy" is greatly diminished. I look forward to further testing and will update my findings accordingly. One plus to the top layer material was that it provided a good amount of leak protection despite being made of canvas.
"
Stay put drops
★★★★★
"
Used the large room drop this week, first time I was able to put it to use on hardwood floors. Placed it under our wallpaper paste machine and it worked perfect. Paste machine did not move, and neither did we while walking g on it
"
Stay Put drop
★★★★★
"
Excellent safe tarp for hardwood and engineered flooring. It's heavy weight and spill proof, we worked 4 gallons of mud on this tarp all day long and no spills penetrated through it. The backing of the tarp is similar to a bath mat and definitely stays put. Even though it's heavy weight and a thicker tarp it folded easily with two guys. Upon repeated uses in dusty environments the tarp remained to keep its grip. Rest assured this tarp is for the messy jobs that have nice Flores to protect. Very safe tarp that does in fact lay flat!
"
stay put drop
★★★★★
"
Used on a hardwood staircase. It conforms quite nicely and remains if you give it enough excess on the inside edges. No slipping on the feet. Stiff but it loosens up with use. A winner.
"
Stay Put drop
★★★★★
"
This product so conveniently adds safety to my job site because there is no extra effort but only added safety. I get tired of canvas drops that keep sliding around on staircases and the homeowners have difficulty navigating their own stair steps. I always worried about a customer tripping on my drops and suing me, but now I do not worry because I use stay Put Drops that stay where you put them on stairs.
"
Stay put drop cloth
★★★★★
"
Does its job quite well! Recently used it on a deck and it can with stand quite a breeze before having to re-adjust. Can't wait to try it on my next stairwell.
"
Stay Put Drops
★★★★★
"
One of the best new paint products that I've ever used! It's such a practical and safe concept that I can't believe that there hadn't been any comparable products previously in the market. The drop cloth is ideal for covering any and all types of flooring and surfaces (Wood, tile, even carpet). I love the fact that won't slide or slip on slick floor surfaces, which makes it easy to setup extension ladders over, and not have to worry about the feet sliding. They just stay put!
"
Stay Put Drops
★★★★★
"
Love our Stay Put Drop! It stays put on stairs unlike other drops that move and continue to slip down the stairs. No need to reposition the Stay Put drop upon every move when working over tiled surfaces. They even wash up easily in cold water.
"
Trimaco Stay Put Drops
★★★★★
"
These drops work great on tile any any hard flooring. Also great on hardwood steps..
"
4.8

out of

5

based on

12

reviews.
Overall rating: