After carrying different types of tape up and down ladders and crawling along baseboards, residential painter and engineer,

Bob Stenavich, discovered a need for a device to safely hold, carry, and dispense his tape.

Needing a solution, he invented and engineered the TAPE TOOL.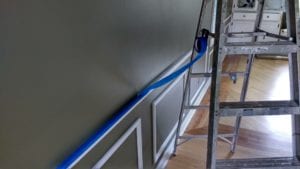 Tape Tool
★★★★☆
"
I would like to thank Tape Tool for letting me try and review this product. I find the tool to be useful as a holder for your tape. The tape fits in snug and securely and the wheel turned freely without any interferences. I couldn't get the tape to rip as easily as in the commercial but I'm sure it just requires repetition. I personally don't use tape very often, but I do use it for masking film and paper for protecting surfaces. I like to angle my tear for corners so I may have some practicing to do. If for some reason I don't find this tool useful for tape dispensing, I still think it's great to have as a holder instead of having to put tape around your wrist or in your mouth. There is definitely a spot for this tool in my trailer.
"
TapeTool
★★★★★
"
I gave the TapeTool to one of my painters to try out and he absolutely loved it. The TapeTool free's up a hand while working on ladders and allows him to be more effiecient thus allowing him to make more money.
"
tape dispenser
★★★★★
"
A professional Painter can always use a third hand, The tape dispenser is there for me when I am putting plastic on windows on a windy day. Thank You for a fine product!
"
Tape Tool
★★★★★
"
This product is such a time saver for me. Usually i slip a roll of tape over my wrist then have to lean off a ladder to tear it. Or set the roll down and forget where i left it half the time. This product made it extremely easy to tape off a stripe half way up a building, felt safer using it and it really saved me alot of time. Love it
"
-
Michael Craine @ Craine Painting LLC
Tape tool
★★★★★
"
It works great while standing. Taping lower areas like the baseboard areas it can get in the way. I definitely will keep it in the tape arsenol. Very happy with it.
"
tape tool
★★★★★
"
I found this tool to be invaluable in preparing a room for paint because it is like having a third hand!
"
Tape tool
★★★★☆
"
Product works well above the floor. On the floor trim it can get in the way. Product totally makes sens but all too often painters are set in their ways and they just do not like changing.
"
Tape Tool
★★★★★
"
A cool and useful product that encourages efficiency on the job site. I'm always looking for ways to improve efficiency, and the Tape Tool definitely fits the bill. Not everyone is able to hold a spare roll of tape on their wrist or in their back pocket, so this product is perfect for keeping it on you, while still allowing for free use of both hands.
"
4.7

out of

5

based on

8

reviews.
Overall rating: