A Painter's Guide to Local SEO and the Google 3 Pack
A little over a year ago, Google launched an update to their algorithm known as "Pigeon" which affected search results from a local perspective. This is what led to Google produced search results, which were located above all organic results on the Search Engine Results Page (SERP). Getting into these results became imperative for small business owners across the country to increase traffic to their web pages. On August 6th, 2015 they made this task even more daunting by reducing the number of Google generated local business results from 7 to 3. This move by the search engine has created a more targeted results section while also making the organic search results more prevalent on the page.
Here are a few action items you can take!
Consistency
In order to have a chance of getting into the coveted 3-pack, Google has to have a very good idea of where you are located. In order for the search engine to be able to accurately identify your location, the search engine records your name, address and phone number (NAP) from every reputable website this information is located on. Web sites such as Yelp, Angie's List, and relevant local directories must have identical information for all 3 of these categories as your web page itself. This consistency plays a large part in pinpointing your physical location for these local results. Arizona Painting Company is an easy example of this being done correctly with the NAP at the bottom of their home page:

This information is correct and consistent as you can see on their Yelp Page and Better Business Bureau Listing: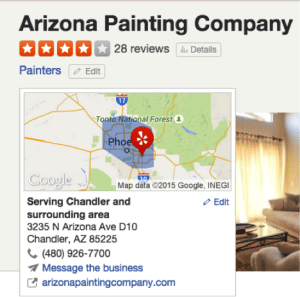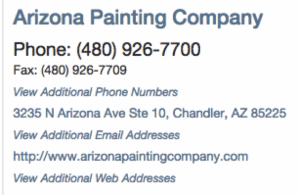 This type of consistency needs to extend through all available channels including social media pages, other review websites as well as the industry specific directories you are listed in. This is working out very well for this small local company as you can see by the search results for "Arizona Painter" where they own the first spot in the 3 Pack and the first organic listing.

Website Elements
This is an area that every webmaster has complete control of. The information on the webpage that you would want to rank well for these local searches needs to be optimized to send the right signals to the "spiders" which are indexing the information on your page. Wow 1 Day Painting excels in this area so I will use them as an example.

Here you can see that the title of the page is "Maine Painters" and the Meta description (page description located directly under the link) includes information on their physical location as well. The page continues to send the search engine indications of the company's location on the page itself.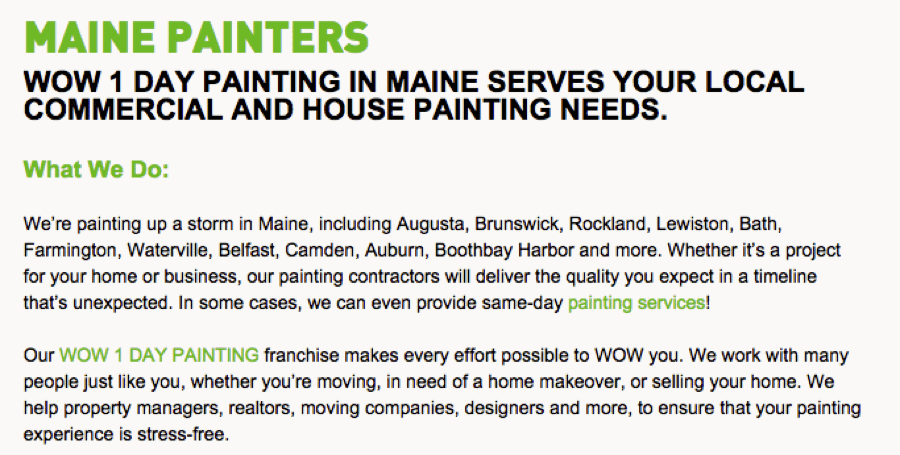 Here you can see that the first and largest heading on the page (the H1) is "Maine Painters" which is both a location indicator and a keyword that they would like to rank for. The following text explains to the users the areas they service as well as their value proposition. The different cities listed are now also associated with this webpage and with the painting services listed throughout out the page (such as exterior painting).
Additional Location References
 The final recommendation I will make to improve your local SEO is taking advantage of every opportunity available to have your website mentioned by other online members of your community. Local news websites, community blog pages, and other local businesses are all great places to be mentioned. Local news web sites which only talk about news in Houston has a lot of "juice" which it can pass along to your company's page with a mention. In our game of associations this is an excellent indicator that your business is directly related with this city for both keyword and location specific searches.
Summary
In short, the easier that you make it for the search engines to find your location the better your site will perform from an SEO perspective. The consistent NAP is a crucial indicator as erratic listings can actually harm your efforts. Beyond that, make sure your page is sending out the correct signals but never engage in over stuffing your page with these keywords. The purpose of Organic Search rankings is to help the end user find the most useful page for their search query.
Make sure to maintain a focus on the user experience as it also plays an integral role in your overall optimization.