Is it really a man's world anymore?
It used to be that the painting trade was predominantly an occupation for men. There is a lot of physical labor involved that, in the past, was believed to be beyond the general capabilities of the women. I worked on new construction jobs with my husband 30 years ago and know all to well how women were treated on the job site. It's been a long time since I had to be on the job site as a painter or helper, but still face issues as a female being the owner/estimator, but that's another story!
What are the challenges that women face?
I'd like to think that the attitude about female painters has improved,  I hear from several company owners or husband/wife teams that report that the females are an important part of their team, often citing that the attention to detail and customer relations are their strong suits. But it's just not the attitudes, but the practical issues that women face, a great example is finding painter's pants that fit,  Erin from Eco Painting talks about here. There are other challenges, handling ladders, lifting heavy items, and I won't even discuss the porta potty woes we face! But, as we see more women entering the trade, I think we can find solutions!
Being the Boss Woman
This gets even trickier, as a friend on a popular forum said:
As a woman running a job, I had to walk a line between being taken seriously and being perceived as a bitch.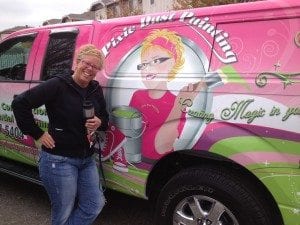 I have run into that as well, it is tough, and there are plenty of women who run successful businesses to use as models, one of my favorite examples is Lynn Waller of Pixie Dust Painting, what a great role model! Everything from her branding to her use of Social Media exudes professionalism and care!
We all have challenges
I have always resisted playing the "female" card in business, believing that it does not matter  what gender you are, it is all about your ability to deliver an end product to the consumer, but there are some differences that need to be addressed, I'd love to hear your thoughts!