McCauley Tools had modest beginnings. In 2005, while painting their house for the market, Garth and Kim Getchell were pulled into an intriguing conversation with seasoned painting contractor Pat McCauley who demonstrated a rough prototype of a unique painting tool that, at first, simply sparked the interest of the Getchell's: then, their excitement.

Veterans of 25 years of commercial contracting with their own 30 member painting crew, Garth and Kim immediately recognized the potential of this creative device and acquired the company. After an exhaustive research and development period, this exciting time culminated in the first patented flexible extension arm painting tools – The Brush Flex and Mini Roller Flex.

Over the years Garth and Kim Getchell have worked hard to make McCauley Tools a solid, reliable, cutting edge company. Dedicated to their work, they put the needs of professional and DIY painters first and foremost.
Thanks to Garth for providing the Zipper Rollers to our Product Feedback Team. The have been using them out in the field and will report back soon. If you have used the revolver, feel free to fill out the review form below and let us know what you think!
If you would like to learn more or order, head over to their site, McCauley Tools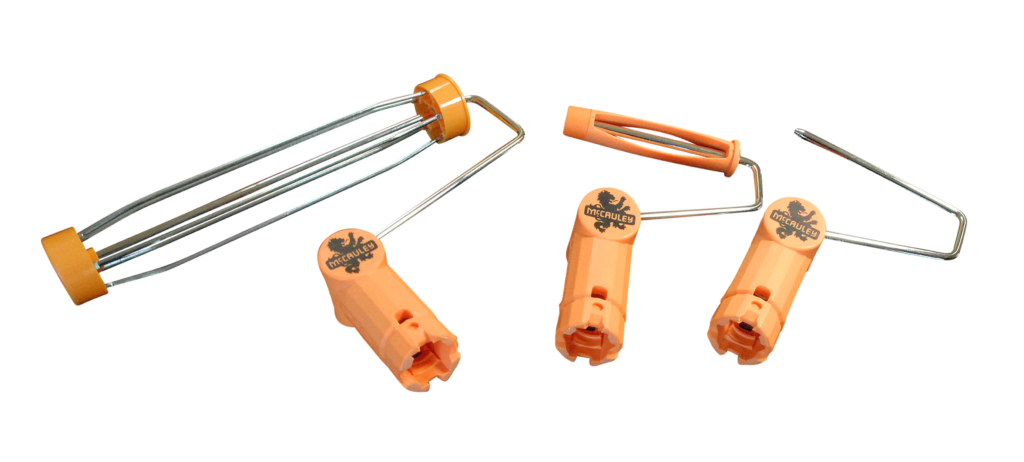 Zipper rollers
★★★★★
"
So far these have been great! I live the fact no squeaking!!!
"
Zipper rollers
★★★★★
"
So far these have been great! I live the fact no squeaking!!!
"
Revolver
★★★★☆
"
First thought was it Looks gimmicky . Tested it out however. I was pleasantly surprised at its performance. As a brush extender, it handles more intuitively than regular floppy brush extenders. I found that he design allowed me to be more precise in my cutting in than the old style ones. As for the roller attachments, I found that it reduces muscle strain versus a regular roller. Very pleased with the product.
"
-
Michael Craine of Craine Painting LLC
Zipper Rollers
★★★★★
"
These are easily some of the best rollers that I've ever had the privilege of using. The interchangeable system with the Revolver adds massive value, and even individually each roller stands alone for being of the highest quality on the market. I've been an avid user of Wooster Sherlocks over my near 10 years of working in the painting industry, and right away after using these Zipper Rollers, I was blown away with how superior they compared to the Woosters. The Zippers roll so smooth and fast, don't squeak, and are very easy to clean out. A phenomenal line of products!
"
4.7

out of

5

based on

4

reviews.
Overall rating: