What do Ad Extensions do?
Ad extensions do exactly what their name implies by "extending" your text ads to include additional information about your painting business. This additional information boosts ad visibility and prominence leading to increased click thru rates (CTR) on your ads. Ad extensions are a proven way to generate more clicks on your ads and improve the performance of your Google Adwords campaign without increasing your budget.
For painting contractors, the most important extensions are sitelink, callout, location, and call. Here is a quick explanation and example of each:
1. Sitelink Extensions
These extensions appear as hyperlinks at the bottom of the ad and direct clicks to other landing pages on your website. An excellent example is circled in red below. A user might prefer clicking on a link to the testimonials or services page rather than the main link. The sitelink extensions are circled in red in this picture:

2. Callout Extensions
Quick "shout outs" of information, callout extensions are a great place to highlight reasons to work with your painting business. Painters have to create their own callouts, but to save your business time, here is a list of 50 great ad callout extensions for contractors. "Spotless Cleanup" and "Free Written Estimates" are examples of callouts in this ad:

3. Location Extensions
Exactly what they sound like, location extensions provide the physical address and hours of your business. This data is imported by linking your Google My Business and Google Adwords accounts. Here is an example of a location extension:

4. Call Extensions
A great way to generate phone calls, call extensions add your phone number right into the body of your ad. Call extensions have the biggest impact on mobile devices, enabling ads to launch calls right to your business! Checkout this example of a mobile ad using a call extension: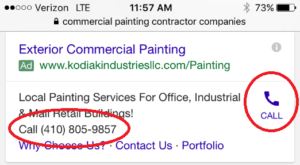 Ready to start using ad extensions?
Since using ad extensions is totally free, every painter running a Google Adwords campaign needs to take advantage of them. If your Google Adwords campaign is outsourced, be sure to ask your provider about your current use of ad extensions. If you manage your Google Adwords in-house, and want to set up ad extensions, Google offers free resources to guide you through the set up process. The Google Help Tutorial on ad extensions is a great guide and the Google Adwords YouTube Channel offers multiple videos on ad extensions.
Need a specific question answered? Feel free to email the author or post it in the comment section below. Expect a quick response!
Interested in learning how Google Adwords can grow your painting business? Please contact AltaVista Strategic Partners, an official Google Partner agency, to set up a free consultation!