How We Ran a Successful Community Based Promotion as a Local Business
At Catchlight Painting, we're always looking for creative ways to raise awareness of our residential painting company and our desire to be recognized as a community partner. When DYB business coach, Steve Burnett shared an initiative he'd used successfully to brand his own painting company – a scholarship award given annually to a young entrepreneur within his service area – the idea aligned with our own objectives so we thought we'd give it a shot. Here's what we did, what we learned, and how we'll improve the rollout of our program next year.
Every Journey Begins with a First Step (What we did)
Our first step was to meet with our digital marketing consultant to discuss the logistics of running a successful campaign on short notice. Before jumping in with other tasks, we refined our objectives which were to:
Increase brand awareness
Provide a community service
Inspire a young entrepreneur
Next we shaped our sponsorship program by:
Creating a name. (We chose Youth Entrepreneur Sponsorship Award: Y.E.S!)
Deciding who would qualify. (We chose local youth age 15-20)
Deciding the value of the award offered. (We chose from $200 to $1,000)
Deciding what we'd ask of each applicant. (We chose to ask for contact information and a paragraph describing what they'd like to do and how they'd use the funding)
Creating a sponsorship logo, description, submission form, website landing page, etc.
Establishing deadlines and announcement dates
Assigning tasks
Getting The Word Out (How we did it)
Once we had discussed and solidified the list of tasks above, it was time to develop a marketing strategy, more specifically, how to successfully get the word out utilizing our existing marketing channels and relationships. As it was our first year and already late in the season, we decided to limit our 2016 sponsorship to our hometown of Newton MA, which helped us narrow and define our promotion strategy.
The first no-brainer was to create a custom audience in Facebook and boost a post announcing the sponsorship to our Newton community.

We identified the relationships and entities that we could leverage to spread the word within our local community including:
News outlets
Online event calendars
Local organizations we donated to or had an active membership
Email blast
What We Learned and What We'll Do Differently Next Year
We knew from Double Your Business Coach Steve Burnett that we were unlikely to receive more than a few applications. However, as our submission deadline approached, we still hadn't received even a single applicant. Giving away money can be harder than you'd think! Our branding objective had been incredibly successful with a 75% eblast open rate and a large number of Facebook likes and campaign shares, but we were getting nervous!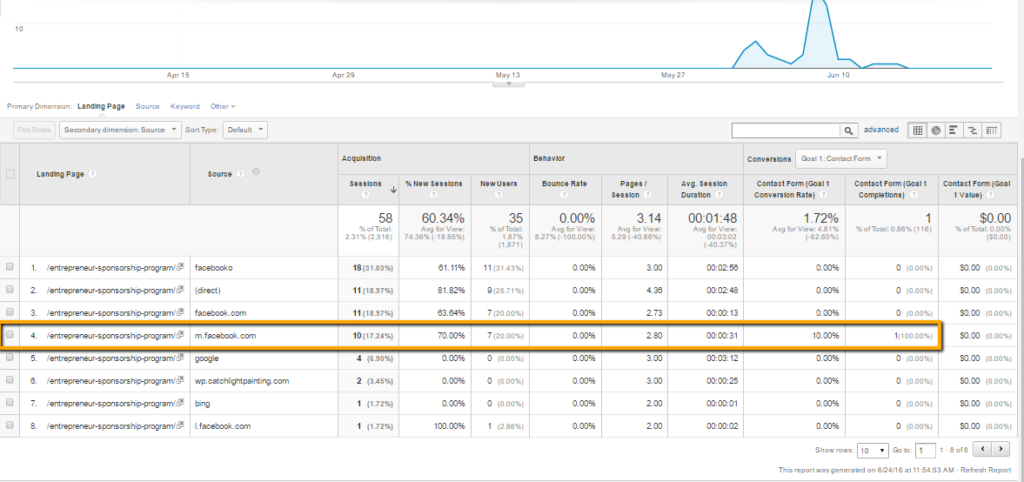 The above screenshot shows the analytics data for our sponsorship landing page. In addition to creating a specific landing page for the campaign, we also created a form to track where submissions originated.
At the 11th hour we finally received one word of mouth submission from an applicant who tracked us down on Facebook. Quality trumps quantity and we couldn't have been more pleased with the submission we received from Lydia Jing who sought to start a "premium" babysitting, tutoring and mentoring business.
Looking Back, Moving Forward
Once the dust settled and we'd announced our sponsorship winner on our website and Facebook pages, we regrouped as a team to discuss what worked, and what we'd do differently next year. Here's what we learned:
Do a more comprehensive job of getting our message in front of our client's audience and youth audiences
Start program roll out mid-winter, perhaps in January, via a post card mailing, flyers email blast to existing clients, out-reach to local high schools, Rotary, civic organizations, religious organizations, BNI chapters, etc
Place ads in local newspaper – or see which might pick the campaign up as a news story
Leverage a PR professional for additional press coverage
Leverage existing relationships to see who might want to post about the sponsorship opportunity on their own professional website and social media channels
Refine our online content assets e.g. video, images, web copy, etc.
Prepare better for phase two: Recipient interview, photography and mentoring
Prepare better for phase three: Announcement of recipient (follow up newspaper article, blog, video, website page update)
Include an offer of optional mentoring/business consultation along with funding
Stipulate that the recipient reports back in 6-10 weeks to let us know how things went
All in all, this was a great experience. We plan on making our Youth Entrepreneur Sponsorship Award an annual event and perhaps expand the number of awards offered.
http://www.catchlightpainting.com/blog/y-e-s-winner-announcement-2016/
Your Turn
If you've run a sponsorship, event or giveaway in your local community, we'd love to hear about your experiences in the comments below.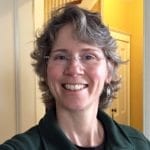 Deborah Costolloe streamlines daily operations, keeps back-burner projects front-and-center, and oversees Catchlight's marketing and community involvement. When not in the office or spending time with Nigel and their two teenage sons, there's a good chance she's making jewelry or walking in the woods with office dog Huey.