Why Use Facebook Lead Ads?
Of the 14 different types of Facebook ad campaigns, Facebook Lead Ads are the best choice for painting contractors looking to generate new clients. The reason they are the best choice is simple, Facebook Lead Ads collect customer information and deliver it directly to your painting business. Better yet, the lead capture takes place entirely inside Facebook. Consider the following example of a Facebook Lead Ad: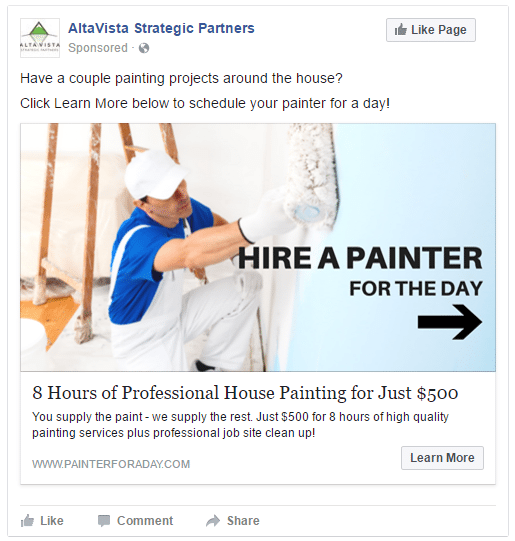 Clicking "Learn More" on the above ad launches a form right on Facebook that users can fill out with their contact information. Once they complete the form, they go right back to cruising their Facebook newsfeed.
This is the major benefit of Facebook Lead Ads. Interested users do not have to leave Facebook to connect with a business. The form completion and lead conversion take place entirely inside Facebook's ecosystem. The best part for painting contractors? They can download collected leads directly into Excel and easily create a hot leads list.
5 Facebook Lead Ads Best Practices
Ready to launch your Facebook Lead Ads campaign? Consider these 5 best practices before you place your next ad order:
Make your offer compelling. Do not simply offer a free estimate. People are more likely to respond and engage ads offering a specific service or monetary discount.

In your ad copy, tell users the exact action you want them to take and the expected outcome. In the example ad we tell people exactly what to do when we say: "Click Learn More below to schedule your painter for a day!".

On your Facebook lead forms, only require three pieces of information. We recommend name, email, and phone number. Avoid open ended fields, such as an "Interested In" section that require users to type out what they want.

Follow up on leads promptly. Same day during normal business hours is the best practice. If leads convert at night or over the weekend, follow up on the next business day.

Use Facebook's ad targeting to make sure your ad reaches the right people. With the "Painter For A Day" ad, we would advise targeting options that include location, homeownership status, home size, length of time in home, and income.
Facebook Lead Ads are a terrific way to capture new leads for your painting business. Facebook has simplified the lead collection process to make it easy for both the customer and your business. If your painting business wants to grow its sales, start collecting new leads via Facebook Lead Ads.
Need help launching a Facebook Lead Ads campaign for your painting business? Contact the contractor marketing experts at AltaVista Strategic Partners for a free consultation!