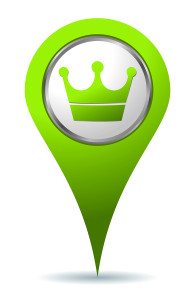 Today I'll continue my series on Google+ Local by offering some tips for how you can go about optimizing your listing. After all, your listing isn't going to do you much good if nobody else gets to see it!
These 5 tips represent the basics of what you need to do if you want to stay visible.
1. Double check your settings
First, you need to make sure there's nothing about your local profile that's going to hurt you. That means that you have to be absolutely certain that your settings are exactly as Google prefers them. Here's a short list of what you need to check over.
Are you using your legal business name, and not some variation of that name?
Is your address correct and accurate? Have you used your real business address, rather than a UPS box address?
Is your phone number accurate?
Are you using the "I see customers at their own address" option?
If given the option, have you hidden your address? (The newer version of the Google+ Local dashboard will do this automatically if you've indicated you see customers at their address, but it hasn't rolled out to everyone yet).
If all of this is in place then you should be in good shape. You can proceed to the next step.
2. Start or Optimize Your Website
It's always better to have your own website. Many people try to "sell" business owners on the concept of Google+ local by crowing that "you don't even have to have a website to rank!"
However, Google+ local listings aren't something that you control or own. Google could decide to take them down any time.
And other than gathering up as many positive reviews as you can (something which is not entirely in your control) you can't really use your Google+ local listing to make a case for why someone should hire you over every other painter out there. You can, however, make such a case on your own website.
And, without a website you will lose vital opportunities to earn organic ranking for all of the cities in your service area, as discussed in my last post.
Finally, Google+ Local also looks to your website for relevancy signals. Having a good, relevant website simply helps you do better with Google+ Local.
3. Add Photos to Your Listing
I cannot stress the importance of photographs enough. Photos make your local listing stand out. They help you provide reasons to do business with you.
And if service area providers are ever moved onto the new Carousel display then photographs will become even more vital to your ability to get leads from the Internet.
Don't just upload your business logo or a picture of your truck. Pictures of yourself, your work, or you and your team at work are far more effective because they inspire a more personal connection with the viewer.
4. Build Your Citations
In local search, a "citation" happens every time your business name, address, and phone number show up somewhere on the Internet. You usually build them by finding and claiming your listing on directory sites like Hot Frog, Yelp, and YP.com.
If you really want to get serious about building citations, reference, "Finding and Building Citations Like an Agency" on the Moz Blog.
The key here is to make sure the citation matches your Google+ Local listing exactly. Don't use Ste. 101 in one listing, #101 in a second and Suite 101 D in a third. Make sure everything matches up to make sure that Google counts the citation.
Citation-building is one of the fastest ways to get your local listing ranked, so don't skip this step.
5. Develop a Review Strategy
Reviews make a big impact on your listing. I'm going to devote an entire post to them, so for now I'll say that you should at least tell customers that you'd really appreciate receiving their feedback. Then direct them to the review site of your choice.
Putting it All Together
It's important that you take all 5 of these steps in order to get the most out of your presence on Google+ Local. If you do, your listing should enjoy a higher ranking–perhaps the highest ranking!–and you should get to enjoy more phone calls!