A simple paint job is one of the best ways to completely update an office building. It's not all about the looks, either. The way you utilize colors can have a huge impact on emotions, creativity and even productivity. Nowadays, trends in office decor are based not only on making good impressions with clients and visitors, but also on creating an optimal environment for the workforce. If you're looking for great ways to use paint in an office building, check out the following tips.
Start with Sleek Blacks and Whites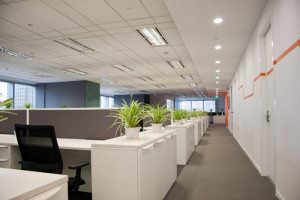 Black, white and gray are among the biggest color trends for offices. Why? There are a couple of good reasons: These colors lend a sense of formality and luxury to interior spaces, and they're neutral enough to look great with a variety of furniture colors, accents, desk accessories and more.
Not only will the streamlined look impress your clients, but it will also give the space a clean, fresh feeling.
Work with Contrasts
Many experts believe that contrasts in color can help to increase your brain's activity and attention span — plus, well-planned color contrasts can be visually stunning. In fact, schools have used color contrasts as a way to give students a break from their bright-white reading and writing surfaces. The ability to look up at something darker is believed to help relieve strain on eye muscles.
Black and white color schemes have obvious contrasts, but remember that this isn't the only way to add contrast to an office. You can utilize opposing colors, like blue and orange, and contrasts between light and dark shades of the same color.
Add Splashes of Color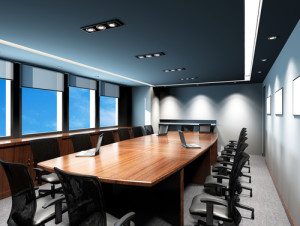 For many, the natural tendency is to avoid daring new colors and instead stick with safe neutral colors. While a basic neutral color scheme gives an entire space a unified feeling, it also leads to a sense of boredom. Mix your neutral themes with areas of different colors — bright orange accent walls, natural shades like green and brown, or soothing colors like blue. This will make the workspace feel more cheerful, which helps employees stay motivated throughout the day.
Put Color Psychology to Work in Your Office
As you're planning contrasts or accent walls, make sure to use color strategically. Color psychology can have a big impact on the workforce's mood and productivity. For instance, blue has been shown to have a calming effect, while green boosts creativity and yellow causes anxiety.
Chalkboard and Whiteboard Paints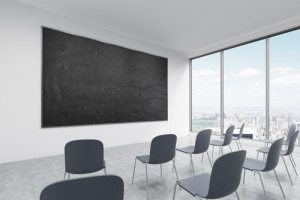 One great way to encourage creativity is to use whiteboard and chalkboard paint throughout the office. This gives employees a fun, modern way to brainstorm or keep track of tasks. This can also help office managers save space, since there is no more need to keep those big, clunky whiteboard frames around.
It's amazing how a little bit of paint can help to completely transform an office space.
Use one or all of these tips to turn a dull office into a lively, productive place!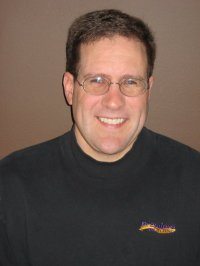 Steve Fountaine is the Owner of Premiere Works, which serves the Washington DC, Southern Maryland, and Northern Virginia areas. Services include commercial painting, construction, contracting, office renovations, and more.