As sales continue to be competitive for paint contractors, blogging has come back around as a hot topic. It is easier than ever to find helpful tips on how to set up a blog. Contractors are putting more energy into building nice looking sites with blog space, and conversations quickly move to "Ok, so, what do I write about"?
Then the conventional "list of blog topics" is shared and everyone starts working down the list.
The question really should be "Why am I Blogging"?
Let's set aside "blogging for SEO and leads" for a moment and think about information that would actually be helpful for someone who is searching the internet with a paint problem to read. Imagine sharing topics with a purpose – that discuss problems and how they can be solved, and SHOW you as the expert in the local field.
"To keep things simple, create your content plan from the mindset of "Let's commit to being the industries best educator. When you become the best educator you will build more trust. You'll become the expert. People hire experts and pay more for them."
Let's look at a few examples from across the web where contractors are showing their expertise: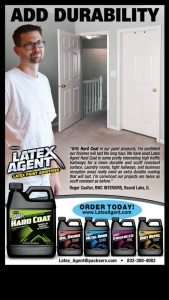 Roger Coulter of RWC Interiors was contacted by a manufacturer after he provided feedback as a product tester relationship at Blogging Painters. The manufacturer featured Roger in a recent ad campaign that was highly visible in magazines and online. This is smart differentiation marketing. You can't buy (at a reasonable price) exposure like that, but you can earn it. 
What others say about your company online is more powerful than what you say about it.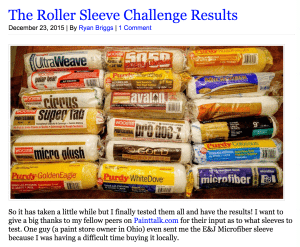 Ryan Briggs from Paragon painting showed his expertise here when he compiled what we believe to be perhaps the most in depth test of roller sleeves to ever be done independently.
Many others online talk about their extensive testing, but Ryan SHOWED it. We've all seen both homeowners and pros blank staring the racks of rollers at the paint store, and Ryan decided to take the guess work out of it. More importantly, he showed that he is not satisfied taking some other expert's word for which roller to use. He will be his own expert.
It is no secret that Google rewards in search results content that is unique, helpful and fresh. We suspect that Google has also seen plenty of the conventional list of blog topics mentioned above.
So what does this have to do with customers?
Good customers want to know who they are hiring, and would prefer an "expert in the field". You can use your blog to build this credibility with well-written content that isn't thinly veiled "get me in the door so I can sell" jargon.
"A recent study by Crowdtap explored what Millennials think of user-generated content, or UGC. It turns out they consider it 20 percent more influential and 35 percent more memorable than branded messages, and they're 50 percent more likely to find it trustworthy.'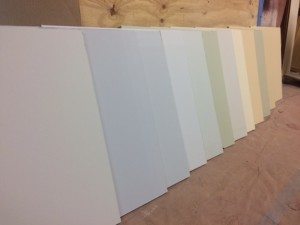 You can also write pieces that can be shared with customers during the estimating process, here is an example of how to do paint samples. 
"Once you get an idea of the color range you would like to be in, do some sampling. The little color chips and fan decks at the paint store are not enough."
In a current contractor survey at Prep to Finish paint education site, early results show that contractors rely on on referrals and past customers more than Web and SEO for quality leads. Could that be because customers finding contractors online aren't buying the content they read on the blog or site? If they click away from your article, there is a 100% chance they won't be calling. 
Creating engaging, fresh content needs a plan and a place, think about why you want to blog and next week we'll continue with the topic.
In the meantime, check out our Roadmap here for inspiration and ideas. As bloggers ourselves, we can confidently say that some of the best original ideas happen when you are reading and processing the ideas of others. When you can make connections between your business and the needs you aim to serve, you are on your way to authentic engagement. 
It is a great feeling when the customer calls because they read your words and felt strongly about them.
So, other than for SEO and easy leads, WHY do you want to blog? If we can solve that, your writing will reflect it and so will your online lead results.
Leave a comment below and let us know where you are struggling with process. We are here to help.