Joshua from Allbright painting is always doing interesting projects when he is not traveling around the states providing educational seminars to paint contractors. His latest one was teaming up with Benjamin Moore to create the worlds largest YoYo. He wrote about the experience here. This is another great example of the evolution of the relationship building between contractors and manufacturers.
Do a search for opinions on Arborcoat and you will find a love/hate relationship and a variety of user experiences. Consumer Reports recently rated it the top solid stain, even with a few negative reviews on their own site.
One of the most commented on posts here at BP is the Benjamin Arborcoat one. In one of the comments Scott says,
Sometimes, folks who have issues with any product are really victimized by something going wrong in the prep, or incompatibility with previous coatings, or lack of maintenance.
Paul Schmidt of Schmidt Painting agrees, noting:
I've been using Arborcoat solid stain since it first came out and absolutely love it. It just plain sticks to about any surface I put it on. As far as the semi-transparent? I'm not sold on it yet. Some people feel it has a "plasticky" look to it, and your prep has to be spot on perfect. Not all of my customers want to pay for the prep it requires, and there are other products out there that are more forgiving.
John from Shearer Painting explains how to properly prepare a deck here.  He, like many other professionals, is a Certified Stain Contractor.
Scott has also written extensively on it over at Topcoat Review and his column in American Painting Magazine. We are fortunate to  have experts like Josh, Scott , John and others that write about these products and spend their time informing painters and homeowners on how to properly use these products to avoid some of the failures we have read about.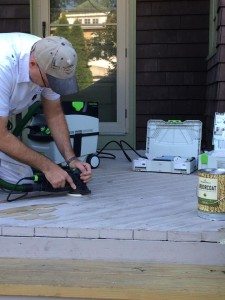 It can literally make or break us. Whenever a product is "love/hate", we remind everyone to sample products carefully and prepare surfaces properly. As researchers ourselves, we know the value of reporting both the best of times and the worst of times when it comes to product. Product is no messing around for serious paint contractors. It drives the system, and has to be controlled and predictable.
If a product can't perform under generally accepted industry standards, then it can stay sitting on the shelf. Feel free to share your experiences with Arborcoat, both good and bad.
That is how we help each other.