The folks at Attamark contacted Blogging Painters wanting to get opinions from our readers on this sash brush. They have been shipped out to our team, looks like they like them! Feel free to leave your own review!
When it comes to cutting-in, having the proper tool is of paramount importance. Create sharp, well-defined lines fast with our Angle Sash paint brushes. Angle Sash brushes have a diagonal edge, instead of being straight across. The angled end allows you to reach into corners and paint more easily along lines. Many professional painters use an angle sash brush to paint window frames and for trim, paneled doors, furniture, cabinets or anything with grooves. Or where you have to paint close to another surface, e.g. where trim butts up against walls. In other words, it is ideal for detail work.
You can find more info their site here.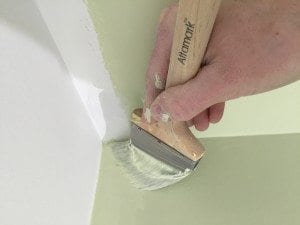 Attamark 3"angle sash
★★★★☆
"
Hello bloggers so I received my attamark brush yesterday and put it to work asap ,,we'll to start off I like the brush very much but would prefer a 2.5 do to after it loads up after long use it gets heavy but also it has great drag and shape , halfway through the night I cleaned brush out to check how it cleaned out and would go back into paint and great results it went right back into shape with cut great lines I would definitely keep it in the arsenal we will definitely see how it holds up after a solid month of use I would definitely like to try there oval line in a 2.5 thanks Chris Haught Don's Quality Painting
"
attamark 3" anglepolyester
★★★★★
"
Nice and thick to hold lots of paint. Good crafting in the bristles and nice feel. Not too stiff or coarse and leaves a real nice finish
"
Attamark 3" anglepolyester
★★★★☆
"
According to my painters, The brush is very nice and holds a lot of paint, however it is rather heavy especially when loaded with paint. Even though the brush tends to be a little heavy all of my painters indicated that they would definitely use this brush again as it leaves clean crisp cut lines and cleans up very nicely at the end of the day.
"
attamark 3"
★★★★☆
"
I like this brush! I had a little bit of a learning curve in the beginning... it felt a little loose. Once I got going, the chiseled bristles made for a fine cut line. I especially liked how it pushed into the corners. Cleaning was a breeze and it held it's form nicely for the next day. I will be interested to see the price point and how well it holds up long term. ASAP Painting Service
"
Attamark 3
★★★★☆
"
At first glance the attamark brush was similar to a proform Picasso without the oval ferrule. I thought the brush performed well for eggshell cut ins over builders flat and quite honestly it cleans very well. It has a great tip and releases paint well. We cut in three rooms with it and it kept its paint pick up and release over three days of washing and drying. My only concern is comfort from this brush. The handle could be shortened and a little thicker at the grip. Otherwise it performed great and I'll use it again
"
Attamark 3" Angle Sash
★★★★★
"
Received this and offered it to my lead painter to use. 25 years in the industry and a Wooster guy through and through. He used this on a high end home and truly enjoyed the balance, the cut line and the feeling of quality in his hands. All I can ask for is to have my experienced guys happy. Very nice brush and attention to detail in the quality.
"
attamark brush
★★★★☆
"
We received our attamark brush and was very eager to try it out. From the time we dipped into our paint We knew we liked it. It held paint very good and the clean up was awesome. We highly recommend attamark brushes and thank you for sending us one.
"
Attamark Brush 3"
★★★★★
"
I absolutely love this brush. Cuts super well! This is now my go to brush. I need a case for my arsenal.
"
-
Sonny's Contracting LLC
Attamark 3" Angle sash brush
★★★★☆
"
I used this brush with an eggshell finish paint with a medium tone coral color over white primer.. I felt the brush being a a little on the thick side, held a good amount of paint.. It also had good release and painted a nice clean line while laying the paint down smooth with minimal brush marks. It cleaned up well. I'm pleased with It's performance and will put it in my line up of cut brushes.. I'm also eager to try their oval line...
"
3' and 2.5 sash
★★★★★
"
Ive done a couple of jobs now with these brushes and I must say I do like them quite a bit. The 3' sash is an exceptional brush thus far. I used it with Duration interior satin and it gave me nice long clean cut ins and excellent coverage and flow. It is right up there with my Cutty 3' sash! Great so far ! Need to buy a case
"
3" Attamark sash brush
★★★★☆
"
The clean up was amazing! I am very hard on brushes as I don't always clean them right away. I think 2-3 days went by with the brush left in a plastic storage bag. The paint almost fell off! Spectacular. I usually use 2.5" brushes as I have smaller hands. It was heavy for me to cut lines. The cut lines were great tho. I think if I used a smaller brush, this would have resolved my issues. Great product.
"
Attamark 3" brush
★★★★★
"
Tried this brush out to prime a door. Held a good amount of paint with nice release. Looks like it's nicely priced as well. Will see how long it holds up
"
-
Michael@ Craine Painting LLC
attamark 3" brush
★★☆☆☆
"
at first glance it looks really nice. the lightweight handle, and softness of the bristles were nice features. it worked beautifully, cut a good line, and cleaned up nicely. 2 jobs into it though, I saw the nails coming out if the ferrule. I am guessing that the lightweight handle wood does not have enough density to hold the nails in. I want to like this brush. there seems to be a ton more bristles in it than my normal brushes, but the bugs need to be worked out.
"
Brush 2 and 3"
★★☆☆☆
"
Really like brush but first use nails fell out brush came apart
"
4

out of

5

based on

14

reviews.
Overall rating: