Times are Changing in the Paint Industry
The topic of choosing paint contractors has been done to death but never ends up in the ground. There's lots of well-intended info on the internet about "How to Choose a Paint Contractor", but even bad contractors have figured out how to dodge the common questions that homeowners ask, and they often smooth it over with lower prices. Buyer beware.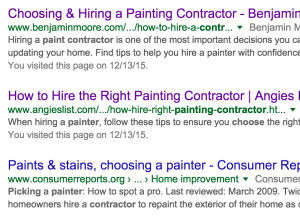 If you are researching this topic, then you have probably already seen many of the garden variety offerings on paint contractor selection.  You know…"get 5 estimates, ask for 5 references", and such. If contractors are starting to look and sound the same to you, then you need to better understand who you are hiring.
So, here's a look at one of the most common and critical questions homeowners ask paint contractors during the estimate process:
"Are You Going to be the One Doing the Work?"
When choosing paint contractors, consumers apparently find comfort in knowing that the owner of the company will be present on the job and painting – presumably to keep the painters in line and to make sure the job is done right.
While that is understandable in theory, it rules out other appealing options for the homeowner. If you've had bad luck or bad vibes with the "on the job" paint contractor, consider another approach.
What if the Owner is NOT the Best Painter in his Company?
The makeup of the paint industry is changing quickly. In the past, most people starting paint companies were good painters who didn't want to work for someone else because they thought they could make more money running their own show.
Often lacking proper business (communication and relationship building) skills, this can be a treadmill leading to burnout. Burnout causes desperate behavior. Desperate behavior causes low bids. Low bids cause shortcuts and shoddy work. Not in all cases, but it seems people only talk about the bad examples.
[Related: What Desperate Estimators Look Like]
In recent years, the paint industry has seen a significant increase in entrepreneurs entering as paint business owners, with little or no painting experience. And there are some high level resources available to assist business owners in the paint industry, such as the PDCA.
If the business owner focuses on the operation and success of the business, instead of making sure no paint is spilled on each job, it can be better for all involved. Imagine, paint services being delivered like a real business experience. 
This has always been my goal when building crews for my residential paint company. I came up through as a painter and started my business. By my 30's, I realized that if I could hire and train the right people, I could actually be the worst painter in my company – and I am actually a very good painter.
I call this the "surround yourself with talent" phenomenon. By building a talented crew, and creating an Operations Manager position with the right person in charge on the job, I got out of the silly and unproductive situation of spending my days on the job with a paint brush in one hand and a phone in the other – doing neither at the highest level. 
Think About Changing Your Search Criteria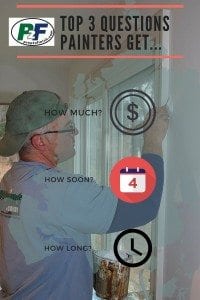 So, what do you expect as the consumer when you insist that the owner be present? You are getting someone who may be physically present most of the time, but their mind is – and has to be – in a hundred other places throughout the day. You are not the only customer or concern.
In reality, there ARE more important priorities in running a paint company than changing the color of your dining room. The responsibilities of operating a company with employees is itself a full-time pursuit, requiring the immediate and full attention of the paint company owner. And that is to your advantage as well. It is good to know that if you call your contractor, he won't have to put down a roller in someone else's dining room to take your call.
The point is, if you search correctly, you can find a paint contractor who can put painters in your home that actually can make it their daily and only priority to make sure your project is done in the best way.
Can Employees Work Independently?
When you go to a restaurant do you expect the owner of the restaurant to prepare the food and serve you?
If the company owner can't entrust a crew of employees (avoid companies who use subcontractors) to complete your project per your agreement and standards, then you simply should not hire that company. When the owner has assembled and trained a crew of painters that can focus on the paint job and customer service, it is usually the best experience for the homeowner.
Good paint contractors are not babysitters. They don't have time for it, so they often choose to work alone. Those who employ successful crews build high expectations and accountability right into the program of hiring and assigning responsibilities. Trust me, you don't want the owner of the company you hire to be surrounded by grunts who are not empowered in any way to care about their work. That is a waste of your time and money.
Final Word on Choosing Paint Contractors
As great as the temptation is, don't make your decision solely based on price, even if all paint contractors start to look the same to you. Good paint contractors don't sell paint jobs, they provide you with a service – an experience, and they make it their business to deliver that at a high level. The most trustworthy and reliable companies do this by employing skilled workers who are empowered and well paid for their reliability, quality standards and consideration.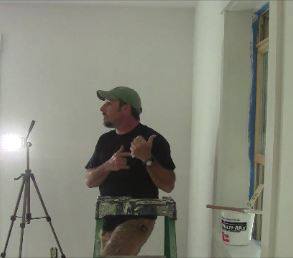 Check to see if the contractor you are considering has a website or blog, perhaps even with pictures and videos of their painters in action. This is a good sign.
If you can check the group out ahead of time, and confirm with the owner that these are real live employees (and not stock internet photos of painters), then you will be better prepared to know what to expect. First impressions are usually accurate, for better or worse.
You might also consider asking your top choice to introduce you to their operations manager/foreman/lead painter prior to commencement of work – perhaps for a meeting to sign the contract and schedule the job.
Paint company owners appreciate the opportunity to introduce their leaders to the customer, walk the job and review the scope of work in advance of the job. It is also a great opportunity to discuss day to day expectations such as where equipment may be stored and special requests you have to minimize inconvenience on the home front.
Well-thought-out contractor selection and honest communication allows consumers to proceed with confidence when choosing paint contractors. As the customer, you can actually influence the process for a smooth experience.
Homeowners often have bad experiences with paint contractors because they solely use price as the bargaining chip. You will pay more for a better paint company, but you will have a solid long term relationship that is reliable and predictable.
And when the painters show up on the first day, remember to offer them coffee and treat them as the professionals that they are. With well-chosen painters, showing respect guarantees you'll receive it and much more in return.