With the push  for more health and safety I have conceded to wearing painters gloves….
Having tried many different types and brands I have settled on Axus Decor Painters gloves!
I have large hands and they fit nicely, and as quickly as they go on they come off, are not sticky and allow me to "still feel what I am doing" which was one of the main reasons I didn't wear painters gloves.
But still use my sense of touch glove free when ensuring high quality sanding,  with use of machines and sanding blocks.   Glove free is only on high spec finishing.
Features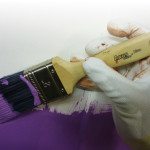 P.U Tex Finger & Palm coating
High solvent resistance
Breathable
Benefits
Great grip
Abrasion resistance
Finger tip sensitivity
Thanks to Wayne de Wet for sharing this UK Product!
Wayne de Wet
Grand Winner Dulux Select Decorator of the year 2011
Screwfix Top Uk Tradesman of the year Regional Finalist 2012
www.checkatrade.com/waynedewet
http://www.housefixer.co.uk/tools-and-materials
 Follow me on twitter
If you have used them, please let us know how you like them below!