"Begin with the End in Mind"
I think most business owners are familiar with this line, "Begin with the End in Mind" from Stephen Covey's book, The 7 Habits of Highly Effective People. When we are just starting out in business, many of us only have a vague idea about where the "end" point will be for our business. We think we have a great idea about how we are going to serve others with our particular skill set, and how we are going to be able to make a great living doing it.
Several years into running your business, you may have stopped and taken the time to seriously consider and perhaps reframe your vision for your business, and how you were going to be more strategic about growing your business to achieve that vision.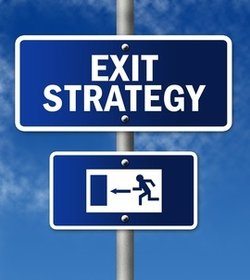 Even so, most business owners are somewhat hazy about how they are going to exit their business and how that will happen. Did you know that it typically takes five to ten years to prepare a business for sale or transition? If you've already been in business for 20 years or more, you definitely want to start considering options and formulating a plan that you can begin to execute when the time is right. If you've been in business a shorter time, this is still a great time to refocus on what your vision for your own future is, and to start putting the pieces in place to move your business in the direction that supports that vision.
What are my options?
You can start exploring options for transitioning out of your business.
Do you have in mind that you want to pass the business on to your children?
Do you have key employees who might want to buy you out at some point?
Do you want to sell to an outside third party?
Some other questions you want to answer when thinking about your exit from your business are tied in with how you see your life unfolding, and what you want your future relationship to your business to be.
Do you want to exit your business fully or partially?
Some people really love what they do and want to keep at least a partial connection to their business for as long as they are healthy and able to do so.
When do you want to leave the business? This will help you devise the timeline by which milestones in the business will need to occur.
How much money will you need when you exit the business? You may want to sell out for a lump sum, or you may want an ongoing income stream. Different choices will impact your strategy.
These questions are some good ones to get you started thinking about your business plan for the future, and will help you to determine the gap between where you are now and where you need to be in order to sell the business, retire or otherwise exit the business.
There are many facets to an exit strategy and you will be well served to make sure that you have a good set of advisors to help you through various phases. A good accountant, financial planner, insurance broker, and estate planning attorney are just some of the professionals you will want to consult with along the way.
I hope this post will get you thinking about the "end" you have in mind for yourself and for your business. We are going to explore this topic in more depth at PDCA Residential Forum's Advanced Shop Talk in Chicago on September 14 & 15, 2012. I hope you will be joining us!