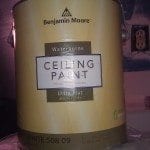 I recently had the chance to work with Benjamin Moore's fairly new ceiling paint 508. Touted as an ultra flat paint specifically formulated for ceilings that hides common ceiling imperfections, it uses the Gennex waterborne colorant system making it a VOC compliant product in all areas. It has longer open times for more work-ability, leading to less laps with minimal spattering. Cure time to touch is one hour, with a one to two hour recoat time. I had the perfect ceiling to try this out in my own bathroom, in our family vacation home.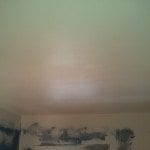 A Neglected Bathroom
It had been neglected for many years, and had seen some leaks leading to failures in the popcorn texture, and water stains. I removed the old popcorn texture, and skim coated the damaged areas after applying a coat of wall paper sizing to glue down the frayed gypsum wall board paper. After sanding smooth there were still plenty of flaws that I could see. As you can imagine the last thing a painting contractor wants to do on their time off is work on their own home, especially a vacation home.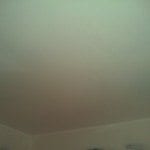 Time to try something new
So I needed a paint that would hide as many imperfections as possible. I found this paint did a very good job at that, even with angular light coming in from the window.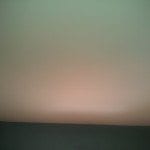 The results
It was easy to apply, and dried to a dead flat film. I applied two coats with a 1/2 nap, and I was really impressed with the flatness. At a retail price of $37.99 this is a high end ceiling paint, and it performs like one.
Since using this paint in my own home, I have spec-ed it in several other repaints and a new construction project JHC has coming up.