"What paint should I use in my own home?"
Can you explain what the single most important aspect should be in a type of interior paint?  Should it be ease of use?  How well it covers?  Clean ability?  Odor?  Versatility?  Affordable?  It is quite difficult to pinpoint exactly what a paint should be, and to be quite honest it needs to be all these things and more.
We have been in business for twenty-one years and over that time we have used just about every type of paint on the market.  If you ask a painter what is most important he is going to tell you cost and coverage.  If you ask a homeowner what is most important they will tell you something the first time, then something else the second time…  So who is right?  Well they both are!  You need a paint that will cover the walls thoroughly and look great when you are finished.  You need a paint that has low to no odor and is environmentally friendly.  You need a paint that can take a beating and keep on going.  You need a paint that can be made in any color of the spectrum and in all different levels of sheen.  And, you need a paint that won't break the bank!  In our opinion Sherwin Williams has done just that with their introduction of the Promar 200 ZERO VOC line of paint.
Promar 200 ZERO VOC is interior wall paint is fantastic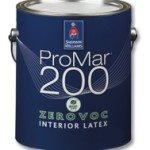 When changing color we always tell our clients that we use two coats of paint for complete coverage.  Sometimes when the color change is drastic it takes even more coats.  We have found that this product covers so well that a second coat is not needed in some instances.  *** Please let me assure you that we ALWAYS apply two coats when we say we will, but if the client is happy with one and asks us to not apply the second coat we remove that charge from the bill. ***  This paint can do everything that we ask it to and it is priced reasonably.  There is a difference between premium paint and cheap paint – we only use premium paint.  BUT, there is also a difference between buying a "name" and the actual cost of a superior product.  I am here to tell you that Promar 200 ZERO VOC is an outstanding product that performs to all standards and meets everyone's demanding criteria.
 How we tested the Promar 200
Last year we setup a blind test in our shop and had the most novice to our most seasoned painters try out several coating products.  We took several sheets of drywall and had paint trays labeled with paint "A" "B", etc…  The roller frames were all the same and the roller covers were identical.  The only difference was the paint itself.  After thirty minutes of painting and an hour of deliberation the clear winner was Promar 200 ZERO VOC.  After the paint dried you could not tell the difference between the seasoned painters test spots and the novices.  You could only tell a difference between the paints.  Every single painter chose the Promar 200 ZERO VOC samples as the best looking and the ones with the best coverage.  It beat out other manufacturers paints and it beat out higher costing materials from Sherwin Williams.   It even beat out the old paint we used on just about every interior that our guys swore by.
Using it in our own home!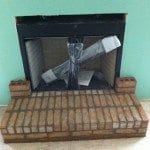 That test was performed over six months ago.  Since then we have been using this product on every house we paint – from typical homes to the most luxurious.  The results are the same every single time!  Our crews love using it, our clients are blown away by the results, and the designers we work with love the versatility.  If you don't want to take my word for it ask my wife; we are currently painting the entire interior of our home with this product and she is in love!