A website serves as a hallmark of business's success and offerings. It requires intensive efforts, time, money, and more resources to make a website perform well. You might hire a team of qualified developers, designers, analysts and even the greatest content writers who could create a fantastic site for your business. However, you will still require the essential metrics to monitor, track, and assess performance of a site.
In this article, we have revealed the top ways to monitor performance of a site. It will help you improve ROI, allowing you to focus on core activities and processes of your business. Read along to discover everything:
Website Uptime
Measuring uptime is the most vital performance indicator for a website. Today, a large number of businesses rely on a website for making sales. If a site faces downtime, it would lose on conversions. Not only this, an unavailable website can become a perfect recipe of disaster for a small business firm, placing its reputation at stake.
Having said, website uptime is measured in percent. Businesses tend to achieve a five-digit website uptime i.e. 99.999%. In addition, businesses can check if key landing pages have optimum uptime. Keeping in view importance of website uptime, Paessler announced April 10th as the World Uptime Day.
Measuring Traffic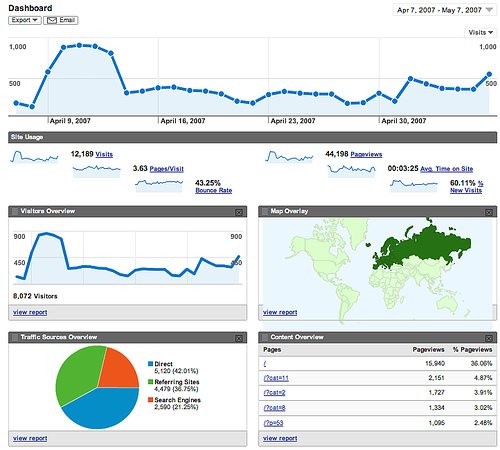 Measuring audience on a website is essential for almost every business. Traffic received on a website can be analyzed through tracking number of visitors using tools like Google Analytics. It allows business owners to identify the number of new and returning visitors on their site.
Through monitoring visitors on a website, a business can discover if it is growing or not. Not to mention, returning visitors represent how good a website is.
Traffic Sources
Besides identifying the number of visitors on a website, it's essential to discover their source. It allows users to find out from where the visitors are coming i.e. Google, social media campaign, business listing, email marketing, PPC campaign, or any other source.
Google Analytics segments visitors according to their demographic, interest, and geographic aspects. Segmenting visitors helps in discovering potential of various digital marketing practices. Through this way, a business can improve their website traffic and to have more conversions.
Bounce Rate & Avg. Session Duration – Traffic Recipe
As per rule of thumb, more a user stays on a website; more are the chances of conversion. On another hand, if a user bounces back immediately after landing on a page, it means that he/she found something interested and proceeded or didn't find anything useful at all. Measuring bounce rate and avg. stay duration of site can help small businesses make their site more user-friendly and engaging.
Though the visitors may not make a purchase on a site immediately, but more they stay on a website, they are more likely to make a purchase. Many times, small businesses make mistake when building online reputation by overlooking upon technical factors of a website. Lower bounce rate and increased avg. stay duration improves ranking of a website on search engines including Google, improving online visibility of a business.
Conversion Rates
Now that you know about how to discover source of the visitors and how to keep the bounce rate lower while increasing the avg. stay duration of a website, you should know if they are taking an action that you want.
A visitor might download a file, request a quotation, send query, or make a purchase. To make a visitor take one of the actions mentioned above or even more, you can place a well-defined CTA such as Download, Get Started, or Learn More. Google Analytics can tell how many users click on a specific CTA assigned with a goal.
Conclusion
Businesses can measure a website's performance through ways mentioned in this article. The above-mentioned ways help a business identify if a website is performing up to the mark or not. With the right set of tools, monitoring a website's performance becomes easier and effective.