If you're not an Instagram devotee already, you might be surprised to learn just how much time this platform's users spend ogling the visual content which populates their feeds. With 700 million active monthly users, that's a whole lot of visual content being consumed…
With such fanatical usage, Instagram is also one of the most powerful social media platforms for businesses looking to market their product or service right now. Selling via this medium is big business, especially for the "Instagram influencers" like Kim Kardashian who make millions from single sponsored posts showcasing particular products.
Right now, 70.7% of US businesses use Instagram 

Double the number using the platform in 2016.
Unlike Twitter and Facebook, Instagram feels like a more natural place for companies to run marketing campaigns – especially if they have plenty of visual content to share which users may be interested in. This boon makes Instagram a great outlet for painter & decorators keen to market their services & attract custom.
Want to harness the power of Instagram?

Here are a few tips to get you started…
Get #hashtagging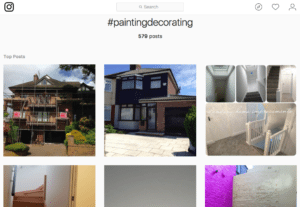 Hashtags are the route to getting your content discovered. Including around 10-15 hashtags, ideally concealed at the end of your post to prevent your content looking spammy, is widely considered to be best practice. There are some tools you can use to uncover the most searched-for and most relevant hashtags like Hashtagify.me. If you're short on inspiration, these apps will help you find the right words to get your images found.
Try to keep your hashtags relevant as much as possible, without making them mundane. A broad spread of terminology is best, ranging from the practical to the aspirational. For instance #HighGlossPaint might help you get found by hyper relevant searchers while "Minimalist" might help you get under the nose of a much wider audience.
Get local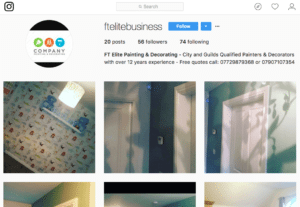 If your painting business is a local one, don't forget to geo-tag your location and add a local hashtag too. Instagram is a very big digital world, so making yourself searchable for others in your area will ensure your business is more discoverable. Reaching out to other businesses in the area, by liking and commenting on their posts, will also help give you are more localised Instagram presence.
Get shared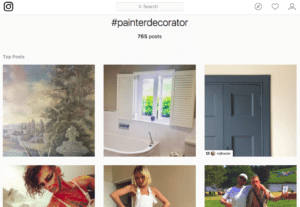 The most powerful content on Instagram has to be UGC (user generated content). This content has the same effect as "Oooh, I love your top, where did you get it?". If an Instagram user (be they a real life friend or an online personality) posts images of something you like, you're much more likely to remember and discover the source of that product.
Persuading your clients to share images of your work on Instagram should be pretty easy – you are an amazing decorator after all! Although the older crowd may not be on board with the platform, many younger clients will be users (the key demographic is aged 18-29). Offering a reward, such as a 5% discount or a nice little extra, in return for publishing an image of their beautifully decorated property along with your Instagram handle will help the the word out about your business to their friends and follower – many of whom may be local.
Share something useful
It's easy to simply post images and content which are purely promotional, but uploading content which is interesting and useful to your target market, such as guides to particular materials and maintenance or upcoming interior trend alerts, will make you much more followable on Instagram.
By Sam Butterworth, blog editor at Regal Floor Paints