Brushaper was developed to give painters a paint brush cover that protects, dries, and shapes your brush between uses. As a painter, you know that your paint brush is your most valuable tool. It's your money maker. Taking good care of it is as important as putting gas in your car.

To extend the life of your paint brush, it's important to take proper care of your brushes.
Wet brushes wear more quickly because moisture causes bristles to fan out. Without a proper cover, your paint brush can get damaged when thrown around in your toolbox.
Cardboard covers that come with the paint brush don't adequately protect your brush. They become soggy, easily fall apart and even grow mold.
Plastic covers trap in moisture causing bristles to fray. Your brush gets easily damaged being tossed around in one-size-fits-all models.
Brushaper is a patented paint brush cover made in the U.S.A.

Brushaper is specifically engineered to fit your paint brush tightly. Using stretchable moisture-wicking material, it protects the bristles from being damaged, helps your brush maintain its shape, and quickly dries your brush so you can start each day with a quality brush, ready to use.

Using Brushaper will extend the life of your brush and save you both time and money.

Join the Brushaper revolution!
Thanks to Andy at Brushaper for providing products to our feedback team!
Updated April 2017!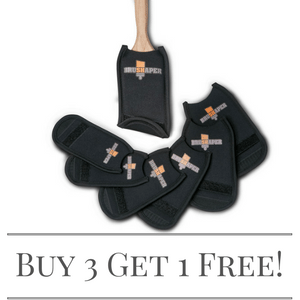 Brushapers now offers a straight edge cover. BP readers can get one free cover when they order a three pack, just enter bp in the notes and specify the size.
Check back to see what they have to say!
Brusher
★★★★★
"
The Brushaper did everything it advertised it would do. It says it will wick away moisture to dry the bristles. I observed my brushes to be dry the next day. It advertises to maintain the brush shape. I observed the bristles to be held tightly together from the snug fit of the cover and the shape was perfect. It also advertises to protect fragile bristles and save money over time by doing so. I agree. The only thing that will possibly concern me down the road is the durability of the sides. Since the fit of the brush is snug, the ferrule can get caught on the material if you're not careful. Only time will tell how it holds up, but so far I am impressed. Thumbs up!
"
Brushshapers
★★★★★
"
My lead painter tried this and absolutely loves it and feels that it well help prolong the life of his high-end brushes, thus saving him time and money
"
Brushapers
★★★★★
"
I have no complaints since receiving mine and definitely plan to order the Painters pack , Andy with brushapers is a great help , I've been in contact with him on ordering full sets
"
Brush Shaper
★★★★★
"
Got the angled 2.5 cover. Pulled the brush in fairly wet. Checked on it a day later. It did dry significantly, and held the bristle shape nicely. Seems nicely stitched, but wondering about how long it would last. Great product overall! Michael Craine Craine Painting LLC
"
-
Michael@ Craine Painting LLC
Brushaper 2-1/2"
★★★★★
"
Great product! And one that most painters have been searching for since the first time their paper cover disintegrated. I got tired of taping my paper covers back together, or putting poly on them to make them moisture proof. The brushaper does exactly what it says it does. It shapes the brush and keeps the bristles from getting bent or broken when not in use. The material seems to wick away moisture while the brush is in the brushaper, as well. I do hope that they come out with a 3" block brush model as well, as that is what my crews use most.
"
2.5
★★★★☆
"
It worked as advertised, I just wish it was sewn tighter on the top so you didn't put through the brush easily,other than that it worked well.
"
2.5" angled brush shaper
★★★★★
"
Absolutely worth the investment! Finally a lasting sleeve that keeps the form and protects quality brushes. Quality constructed and a genius idea.
"
brushaper
★★★★☆
"
It does as it was intended to do. No complaints. I would probably have one or two on hand if I ever lost the original cover
"
21/2"brushshaper
★★★★★
"
Great idea. Really works well. Just enough moisture leftin bristles to allow good paint pickup.
"
21/2"brushshaper
★★★★★
"
Great idea. Really works well. Just enough moisture leftin bristles to allow good paint pickup.
"
2.5 in angled
★★★★★
"
Worked Great! It is just snug enough to keep a great shape on the brush. It seems sturdy, I anticipate it will last a long time too.
"
2.5" brush shaper
★★★★☆
"
Used this on a brand new Wooster yesterday, worked good as far as it drying but the edges of the brush did get curled slightly so I gave it a four star rating.
"
Brushshaper
★★★★★
"
Works as advertised. I threw a wet older brush in and left it for a few days just to see if it would mildew. It did not and it even made the brush take shape again. This will be added to my toolbox for sure.
"
-
Dan Schmidt ASAP Painting
Brushaper
★★★★★
"
Our team loves it..."What a great product! Been using it everyday since I got it. Used it on an older trim brush that was frayed out and it reshaped it! I could use two more and now that the other members of the crew see it, they want some too!"
"
2 1/2 Inch Brushaper
★★★★★
"
I let my lead painter try this and he really loved it. He is fastidious about cleaning his brushes and really liked the fact that each morning they were really dry and felt new again. And they do keep their shape very well. Great product.
"
2.5" Angle Sash
★★★★★
"
Excellent product, it worked exactly as described. It wicked moisture away nicely while in storage overnight and my bristles were in perfect shape the next day. I expect to get much more life out of my brushes as the Brushaper is such a nice and snug fit that it works even better than the paper sleeves, not to mention that it will last much longer than the original sleeve. The only addition I would like to see would be either a little label or even making the brush logo larger so that one could write the brush type on the outside of the sleeve. Maybe I'm just messier than most but after a couple uses the brush info on my handle is usually covered in paint and it would be good to know what kind of bristles are on the brush at a glance vs. having to pull the brush out. Other than that, I look forward to adding several more of these covers to my kit!
"
2.5" brush shaper
★★★★☆
"
Used this on a brand new Wooster yesterday, worked good as far as it drying but the edges of the brush did get curled slightly so I gave it a four star rating.
"
2.5" Brushaper
★★★★★
"
The Brushaper provides excellent bristle protection allowing the brush to be stored bristles down, bristles up or lying flat with equal effectiveness. Installation and removal are intuitive, quick and easy. During the trial period, two different brush shapes (2.5 inch Picasso oval and Purdy clearcut) were stored in the Brushaper between uses. The Brushaper maintained each brushes shape with equal effectiveness that was as good if not better than the brushes original cover. The Brushaper gets 5 stars for functionality.
"
4.7

out of

5

based on

18

reviews.
Overall rating: