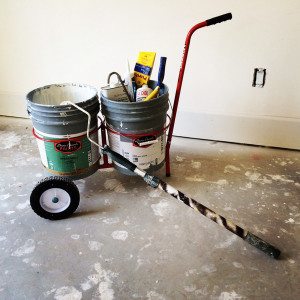 Wow, where was this when I was the spray "tender" while my husband was spraying?! Lugging those fiver's was always my least favorite thing to do! It was so easy for him to carry two at a time, but doing that for thirty years took a toll on his back, and I am sure there are many other painters who have strained themselves carrying full fives. Rory Lamb has created the Bucket Buddy, a simple cart that help you move paint safely, as well as move equipment and tools on the jobsite.
Leave a review if you have tried one!
It works!
★★★★☆
"
The Bucket Buddy makes it very easy to move multiple five gallon buckets. Bucket Buddy is very capable of withstanding the weight of two five gallon buckets. This product is ideal for interior commercial jobs, not so much for exterior as it is difficult to push or pull through the grass with multiple five gallon buckets. Bucket Buddy is also nice for transporting tools and baseballs for weekend batting practice as two five gallon buckets of balls don't weigh as much as the paint. Nice product to help with transporting heavy multiple gallons of paint that otherwise could easily injure ones back if not lifted properly.\r\n
"
Fantastic tool!
★★★★★
"
I picked up this product at a hardware store in the San Fernando Valley. It was a great deal! We are currently painting a hotel and this product saved us a lot of time and effort moving around our paint and supplies. At just $40, this tool is a bargain. The more I use it, I realize how many other ways i can use it other than painting. Thanks Bucket Buddy!
"
Great for everyday tasks
★★★★★
"
The bucket buddy is a great little secret. It saves me time and my back from the strain and inconveience of carrying heavy buckets . I like my bucket buddy.
"
Might Try It
★★★★★
"
What I have read so far about the Bucket Buddy seems very promising. I myself have lugged those 5 gallon buckets everywhere imagined. For years they have strained my back terribly but I think this might be the solution. Thanks for the comments!
"
4.7

out of

5

based on

4

reviews.
Overall rating: