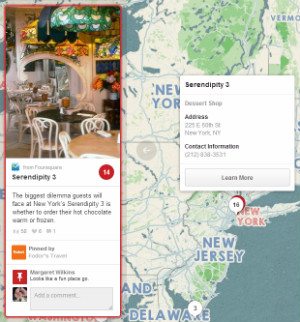 It's no secret that Pinterest is a rising star in the social media world, posting big gains and offering plenty of novel opportunities for people and businesses alike to promote and express themselves.
Pinterest's newest offering, called Place Pins, saw its debut in November of 2013, and has left people in a number of industries scrambling to make the most of it. Place Pins were envisioned as a combination of a classy travel magazine and the utilitarian qualities of a map. Even better, they retain the inherently collaborative nature that Pinterest is known for.
Pinterest began developing Place Pins after discovering that about 1.5 million places were being pinned by users every day. They decided to make the process even easier.
For the individual Pinterest user, the applications are obvious: put a pin in the locations you've visited or on the places that have left the biggest impression on you.
Here's how it works: Pinterest makes it easy to add a map to an existing board or to create a new board with a map outright. After that, clicking the "plus" button lets you pin an image of your choice to the map. Then you can easily add an address.
What Does This Have to Do with Business?
Remember in years past when people handed out paper business cards? This is the logical next step, and it doesn't require you to carry around stacks of cards with you. Basically, Pinterest Place Pins serve as digital business cards. Every time you place a pin on an image and somebody else re-pins that image, the address you've entered stays with it.
Now think about the implications. The majority of Pinterest users access the site from a mobile device such as a tablet or smartphone. Given the GPS capabilities of those devices, anybody selecting the photos you've pinned to the map will be just one step away from getting driving directions to a business, a college, a restaurant, or anywhere else. The localizing nature of a map also makes it more likely that locals will see your pins.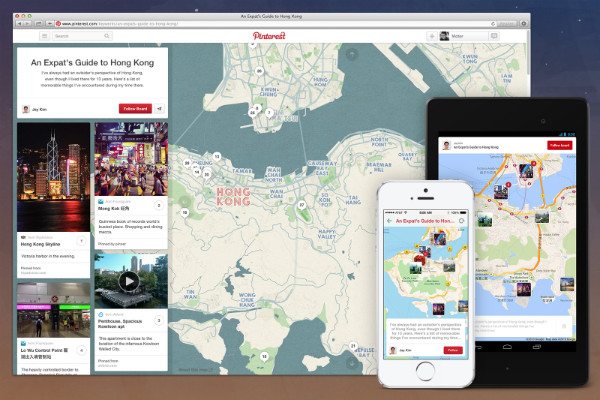 Get Creative with It
Of course, mapping your physical store locations is just the first step. Place Pins are going to have a number of far-reaching implications for locally owned businesses everywhere.
For example, it's definitely going to encourage a certain community spirit. Local businesses and contractors located in the same general area could work together to create a map on Pinterest of the local businesses, in a collaborative effort to increase foot traffic. It can be difficult to persuade a shopper to make the drive to visit just one store; seeing everything the area has to offer in a single glance could go a long way toward bringing hesitant shoppers out of the woodwork.
Granted, painting contractors aren't so much about enticing shoppers as they are about convincing would-be customers that they're the best at what they do. An exciting notion for contractors is the ability to create a map – a portfolio, if you will – of all of the locations in your area where you've done work. Renewal by Andersen, a window specialist, already has a map of their work on their website and are working on copying the map over to a Pinterest board, with shots of the projects. Projects like this would be impossible without Place Pins.
You'll most likely want to keep the personal details to a minimum, but giving people a visual image of the cities where you've done business could go a long way toward building your reputation and credibility online.
Use It Often, Use It Well
Keep in mind that local businesses will only get out of Pinterest what they put in. Making the most of Place Pins, and every other feature on the site, is limited by your imagination and by how regularly you update your boards.
That said, if you take the time to turn your Pinterest boards into a resource for would-be customers, you may well be surprised by the gains your business can make.