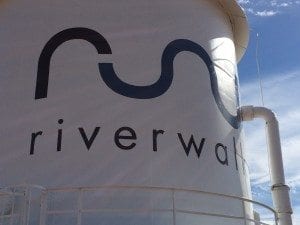 Large scope projects are never simple 
Industrial painting on an elevated water tower is a great deal more involved in the aspects of planning, logistics and safety.  When you get down to it, painting is painting.  With qualified painters and depth knowledge of the overall painting process, almost anything can be painted!  Last year, we painted two elevated water towers.  Each tower had its own challenging aspects and details requiring a significant amount of planning.  Let's focus on the larger of the two towers, which was 185' tall.
When painting an elevated surface of any kind, safety is always top priority.
On most typical jobs, a contractor may need to access heights of forty to eighty feet.  Those heights are easily accessed by standard size AWP (boom) lifts.  Anytime you have crews in AWP's, it is crucial everyone has been trained extensively.   OSHA mandates any lift operator be trained and carry a pocket card at all times.   Make sure your crews have all the proper PPE as well.  Depending on the scope of the project, PPE could include any or all of the following: harnesses with lanyards, safety lines, glasses, gloves and respirators.  When working at extreme heights, it is important to have an OSHA certified "competent person" on site.  In addition, anyone who is getting out of the lift baskets when up in the air needs to be "climb" certified.  This is specialized training regarding climb safety, three points of contact safety, proper safety line attachment, and rescue procedures.  Custom Coatings Inc needed three sizes of lifts for this project: one 150' boom, one 120' boom and one crane with 250' of stick.  Once safety training has been addressed and utilized, you can confidently move to the more exciting aspects of the project.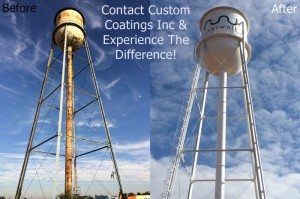 The key part of any successful paint job is proper preparation.
In the case of this tower, it needed a thorough cleaning.  We blasted the tower with 4000 psi pressure washers and used zero degree oscillating tips to help "chew" through some of the loose scale and rust.  We used industrial degreasing detergents and bleach to aid in cleaning.  We knew some of the minor surface rust did not have to be prepared in great depth due to the coatings we were using, but the heavily pitted rust was given SSPC-SP3 power tool cleaning procedures (SSPC is the Society for Protective Coatings and provides industry standards for proper painting on concrete, steel, and other industrial applications).  Due to the client's specifications and expectations, this tower did not need to be blasted down to bare steel.  This particular tower was no longer functional.  The client's goal was to have the tower act as focal piece for an urban industrial housing/commercial development.
Once the tank was cleaned and fully prepped, we applied a Sherwin Williams 100% solids product to the heavy rust.  This product is specifically engineered to lock in rust on marginally prepared surfaces.  After the initial pre-prime, we applied a full coat of Sherwin Williams Duraplate 235 epoxy coating.  This product is extremely durable and is often used on offshore applications.  We applied the first coat at 5 mils dry film thickness.  We then applied two full coats of Sherwin Williams Corothane 1 urethane coating to the entire structure.  This extreme high quality urethane will provide years of durable glossy protection to the tower.  All coats were applied by spraying and back rolling so the materials were evenly distributed for a uniform finish.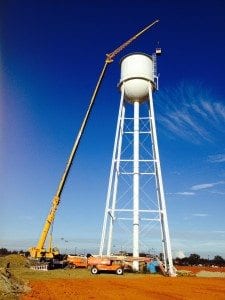 On a tower of this size we would normally use the tie off points which are engineered and built into the top of the tower during initial construction.  These points are used to access the top and high sides lifts cannot reach.  Upon inspection, the top tie offs were ruled out as an option due to the age and wear.  We utilized a crane with 250' of stick and a man basket to get us all the way across the top of the tank and upper sides.  The crane also made it easier to install the stencil we used to apply the clients logo on the tower.  The stencil logo was made up of nine 4'x8' pieces of polystyrene.  These pieces were applied starting at the center of the tower and secured down so we could properly paint the logo.  This might sound like a relatively easy endeavor, but imagine being 175' in the air, standing on a tight 18" catwalk or in a 4'x4' crane basket, and holding a 4'x8' sheet of thin material over your head which basically acts like a sail!  This phase required extra attention to our safety procedures to ensure our painters well-being.
The finished product is not only an aesthetically pleasing upgrade, but it lends the industrial feel our client envisioned.  The tower may not be functional in its original sense, but it will serve our client's vision for many years to come.  At Custom Coatings, Inc., we pride ourselves on the successful merging of client's expectations and our safe and professional executions.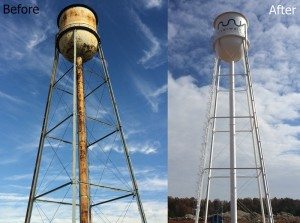 *** Visit Custom Coatings Inc Industrial Photo Gallery to view all pictures from this Elevated Water Tower Painting and other projects:
http://www.customcoatingsinc.com/industrial_photo_gallery.htm ***