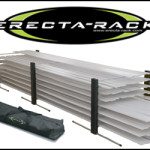 Do you use an Erecta Rack? Fill out the review form and tell us what you think!
See more on Dean's thoughts here!
You can find out more on them here, and what they have to say in the UK about Erecta Rack!
Erectara-Rac
★★★★★
"
Integrity Finishes of Tampa Bay recently added a great new(to us) system for painting cabinets.\r\nWe had been struggling with stacking and laying out our cabinet doors and drawer fronts when painting cabinets on site. After listening to other contractors talk about the Erecta-Rac System we purchased 2 of the Pro Pack 10 Series. I am happy to report our guys give it 5 stars.. They liked the system so much we purchased 1 more just yesterday to make the drying process even more convenient.\r\nNot only does this system take up less room on site, it lends itself to a more professional and stream lined look for our company. We are very happy with the Erecta-Rac system!
"
A MUST have for...
★★★★★
"
...anyone doing cabinets, doors, trim in bulk... This system is so easy to use, keeps the job looking so professional and just saves so much time. I have bought two systems for my painters and to a person both crews use them on every job they can. 500' of new baseboard all stacked on this system sure screams professional when a customer peeks at the jobsite. A whole kitchen full of cabinets doors and drawer fronts all lined up neatly drying look so much better than scattered around a garage leaning all over each other. Truly a great product. Thank you
"
5

out of

5

based on

2

reviews.
Overall rating: