Drying Rack Systems
When a paint contractor is working on a finishing project in the shop, whether trim pieces, windows, cabinet doors, shelves, or anything else, a big part of getting the job done efficiently is the racking system you use for all the parts. Like most contractors, shop space is at a premium and we need to make the best use of the space we have. This is a review of the three systems I am most familiar with.
The Old Standard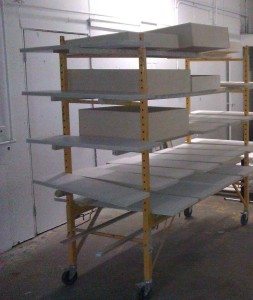 Traditionally we, like many contractors I know have used a baker scaffold with boards run across the side rungs as our drying racks. This has worked relatively well but does not handle as many items per cubic foot as other systems out there. It is mobile, which helps since you can load up the rack near where you are spraying then move it away to dry and bring in a new scaffolding rack for the rest of the batch. Because of the large spaces between each level, this system excels for heavier or bulky items (i.e. drawer boxes, window frames, etc). We have found that 2×2 pieces of lumber are the best for supporting the items drying. Thinner pieces are too flimsy when loaded with heavy items such as HDF shelves that we often finish or even a bunch of cabinet doors.
This system can have a lot of wasted space given the space between each level of drying items and is not exactly compact for travel or when not in use in the shop. On the plus side, most contractors probably have a few pairs around the shop anyway. This system is not the best for long pieces of trim, cabinet doors, or passage doors. It is the easiest system to load given the space between levels, very low risk of bumping other pieces when loading.
Build Your Own?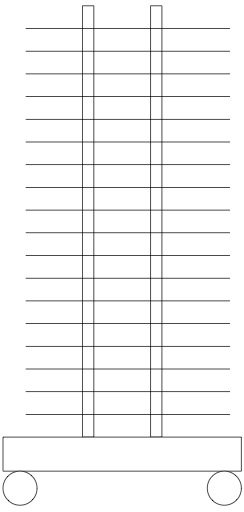 Another system that I have seen, but not personally used, is the homemade drying rack that I have seen variations of on the Internet or in other painter's shops (shout out to Mike VanOverloop). It usually consists of a mobile base and wood uprights with some kind of metal or PVC support rod inserted through a hole drilled through the uprights. This system works well for cabinet doors, shelves and is also mobile. For me, I am not very handy at wood working and I would rather spend the time it would take me to make this device fishing. I would prefer to buy a well thought out system that is ready to go. There are commercially available drying racks similar in design to my sketch.
This system is not portable and needs to be loaded carefully or it can be top heavy, depending on the weight of the base and overall height of the rack. Also this system is the least flexible for use with items other than shelves or cabinet doors. This system loads very easily and works well with cabinet doors and shelves only. Larger cabinets doors may have a difficult time fitting on the rack. Depending on how it is constructed, this version can be moved around once loaded with parts.
Erecta-Rack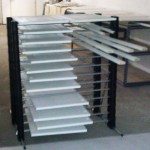 The final system we have experience with is the Erecta-Rack system (www. erecta-rack.com). This one consists of plastic blocks with metal support rods. It sounds simple enough, but this system will actually require a more in-depth review than the other two options.
The biggest advantage of this system is that it can be adjusted to fit your project size. Are you doing passage doors you want to lay flat and finish? One door will nicely fit per level on the standard size 40" width supports (picture here). One cabinet door and one shelf will also fit well or 2-3 drawer fronts. For a larger batch of cabinet doors, I prefer the available 60" width support rods. This allows 2-3 doors per level. For wider items like window frames or drawer boxes, you can use the plastic blocks as spacers and only insert the rods once you have enough height clearance for the deeper items. I personally would probably use my Baker Scaffold for these items in most situations. From my experience, the support rods are strong enough for standard cabinet doors, HDF shelving, windows, etc in either width. At this time the 60" width is not listed on the Erecta-Rack website but is available if you call.
Loading up the Erecta-Rack takes a little forethought to get the most out of the system. First, stability of the rack is derived from the weight of the objects placed upon the rack. Load it up on the bottom level first as you build the rack up. Do not build an empty rack and then load from the top down. Once everything is loaded onto the rack, you may load from the top down or bottom up and it will remain stable. One piece of advice for racking cabinet doors is to set up the rack with the distance between the two support rods so that when you slide the wet item in it will fall into place on the opposite bar when gravity grabs it. This is especially important if you are drying three items per level since you will not be able to grab both ends of the items to ease it into place. Nothing makes my heart skip a beat like freshly finished items not sliding gently into place or bumping another item on the rack. It takes enough time and effort to get the surface ready for that final money coat and the last thing you want is for all your efforts to be wasted when you slide it into place to dry.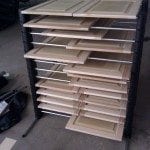 Portability is very impressive with this system as well. The 40" Erecta-Rack fits nicely in a travel bag for those new construction projects when a lot of loose parts are being finished on site. The 60″ supports will not fit in the travel bag.
One other important thing to remember is that the supporting rods are metal and metal does leave marks on painted surfaces, especially when you need to slide items across them to rack them. And I learned there actually is a term for the grey marks metal leaves on paint: coining. So there you go, a new word I am guessing for some of us. The same thing happens when your wedding band leaves a mark a door you are installing. To prevent this, I have wrapped the supports with painter's tape. This solution works alright, but it can wear through when loading up heavier items. I have considered applying strips of felt to the supports as well but have not found suitably sized strips of felt at this time. These efforts may soon be unnecessary since the manufacturer is working on an optional coating for the rods to prevent this coining effect.
Now for the biggest down side to the Erecta-rack system: lack of mobility. Since I will mainly be using drying racks in the shop, I strongly prefer to have a mobile system. I like to position a rack close to the spray area, load it up as I spray, and then move it to a location further from the spray area to dry and start loading up another rack. After talking to the manufacturer, it sounds like a mobile base is in the works and would be a wonderful addition to this system.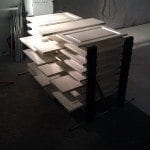 The Erecta-Rack excels for storage density, flexibility, and portability. It is great for cabinet doors and long pieces of trim (may need two sets for additional middle support). The negatives are lack of mobility, coining of painted surfaces, and more difficult to load than the other two racks since items are being slid into place more than set into place.
Even though there is room for improvement, the Erecta-Rack is the winner of the drying rack systems I have used in the past. The high density drying space it offers, compact and portable size when disassembled, plus the adaptability outweigh the negatives. In addition, communication with the company demonstrates that they are responsive to contractor input and are not going to rest with the offering they currently have but will continue to improve and innovate in the future.
UPDATE: We received support rods that were powder coated in company appropriate green.  The powder coating appears to have solved the coining problem the uncoated support rods had.  We sprayed waterborne enamel and flipped the cabinets doors the next day, sliding them into place, and there was no evidence of coining or doors sticking to the rack.  If you plan on using these for cabinet doors we highly recommend upgrading the this option.