For a limited time, FieldPulse is offering 50% off for 6 months to bloggingpainters.com readers that schedule a free product demo and mention bloggingpainters.com!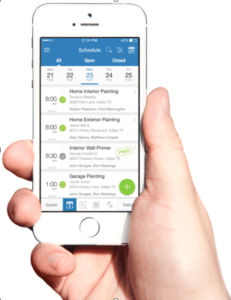 FieldPulse is an all-in-one business management application for your painting company – operating on iPhone, Android, and Computer WebApp. Schedule jobs for your team members, manage customer relationships, create estimates and invoices, and more!
With FieldPulse, you can easily schedule jobs and assign team members, automatically notifying them of their newly assigned work. Team members can easily find their assigned work with all relevant information to get the job done right. At the job site, team members can provide status updates back to management with just a single click or provide detailed comments and attach photos. Each status change will geotag your team member's location, letting you know that they got to the job site on time! Want to further divide the painting job into prep, prime, and paint to more accurately assign work and track status? FieldPulse's subtasks allow you to assign and track individual tasks within a job for more detailed project management.
FieldPulse also allows you to create estimates and invoices in the office or at the job site. Need to create an estimate for a customer at their home? Quickly create detailed estimates on your phone, collect customer signature approval, and then send them a PDF. No more handwritten estimates, and no more waiting to return to the computer. Once the estimate is approved by the customer, you can easily convert the estimate to an invoice with the click of a button. When ready to collect payment, FieldPulse's Square Mobile Payments integration allows you to open Square payments with a single click, automatically attaching a payment ID to the invoice and marking it paid. With FieldPulse, you always have full traceability into your estimates, invoices, and payment history.
From scheduling to invoicing, all of your customer history is kept in FieldPulse's integrated CRM. Never lose track of customer information, payment history, or jobs again! In addition to detailed customer profiles, you can easily add customer notes, comments, files, and photos to make sure you stay on top of your customers.
FieldPulse's flexible month to month pricing aligns with your business size, making it suitable for small companies that operate as a single team to larger companies that operate in multiple teams. With different roles for different team members, you can limit your team members' exposure to customer, invoicing, and job information to make sure they don't have access to sensitive information, remain focused on their tasks, and are equipped with the right tools to get the job done right.
Try FieldPulse today with a 14 day free trial and get 50% off for 6 months with a free 1-on-1 demo!