RTX Texture Sprayer for Interior and Exterior Finishing of Textured Materials
New equipment, with industry-leading pump technology, significantly improves production rates and finish quality
MINNEAPOLIS– Graco Inc. (NYSE:GGG), a leading manufacturer of fluid handling equipment, announces the release of its updated RTX Texture Sprayer product line, ideal for interior and exterior finishing of textured materials, including EIFS, drywall mud, and decorative finishing. The updated units, with separate models for interior and exterior applications, offer significantly improved production rates and improved finish end results over competing technology.
"The new RTX systems improve productivity in finishing applications, and make it easier for contractors to get their finishing jobs done well and quickly, and move on to their next job. With a range of sizes and output rates available, the RTX Texture Sprayer product line suits nearly any interior or exterior texture spraying application."
Robert Gundersen, Worldwide Product Marketing Manager at Graco.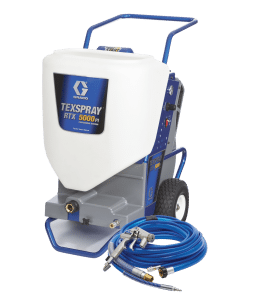 The RTX Texture Sprayer line features Graco RotoFlex™ & RotoFlex II Pumps, with an exclusive flow-through design that provides smooth material flow for uniform coverage and a consistent spray pattern. The units also feature Graco's FlexChange pump system, which allows customers to replace the RotoFlex pumps with a spare in seconds, with no tools required.
Some RTX TextureSprayer models include features such as: Graco's MaxPower DC Motor, which allows users to eliminate the common power issues associated with long extension cords; SmartStart, a feature that lengthens machine service life by shutting the machine off when the sprayer gun trigger is not being pulled; and WideTex, spray tips that improve efficiency by creating an extra wide spray fan pattern.
For more information about the newly-released RTX Texture Sprayers and other texture spray equipment, visit the the Graco website.
ABOUT GRACO
Graco Inc. supplies technology and expertise for the management of fluids and coatings in both industrial and commercial applications. It designs, manufactures and markets systems and equipment to move, measure, control, dispense, and spray fluid and powder materials. A recognized leader in its specialties, Minneapolis-based Graco serves customers around the world in the manufacturing, processing, construction, and maintenance industries.
For additional information about Graco Inc., please visit us at www.graco.com or on Twitter @GracoInc.