Guess what the most common construction accident is?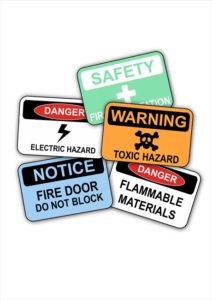 That's right – falls. Falling is number one on OSHA's hit parade of the "Fatal Four" accidents in the industry. The thing is, most falls can be avoided by using the proper equipment and preparation.
Even if you are building a "tiny house" a fall from the roof could cause serious injury. Obviously, erecting a multi-story high-rise just raises the stakes, as it were. Fall prevention is the key to minimizing, if not outright eliminating, injuries and fatalities from accidents at height.
17% – the percentage of fatal work injuries involving contractors out of all fatal work injuries in 2014.
1 in 5 – worker deaths in 2014 that were in construction.
9% – percentage of fatalities in construction accounted for by falls in 2014.
Falling is the leading cause of worker deaths in construction.
"Fall protection, construction" (29 CFR 1926.501), was one of the most commonly cited OSHA standard violations.
Start with PPE – Personal Protective Equipment
Fall protection must be available for each and every person who works six feet or more above a lower level. Providing a harness is a good start.
OSHA recommends a full body harness with a shock-absorbing lanyard or retractable lifeline. Anything less is unacceptable. A harness will distribute the forces across the entire body so as to avoid injury to any single body part. The harness must fit properly; stock a variety of sizes to ensure everyone who will work at height has access to a harness that fits.
Once at height, the harness must be clipped to the lifeline or other anchor, which itself must be anchored above the point of operation to a structural member that can support a minimum dead weight of 5,400 pounds. If any lifeline, safety belt, or lanyard is ever subjected to "in-service" loading (in other words, it stopped a fall) it must be taken out of service and never again used for employee safeguarding.
Before you start thinking about the expense of replacing a lifeline or lanyard, consider the expenses related to employee injury or death.
Safety with Scaffolding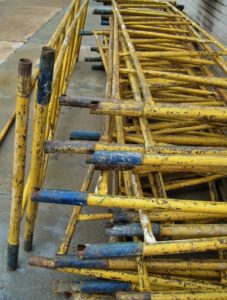 Scaffolding, while common in construction, creates a major safety risk when used incorrectly. Scaffolds present opportunities for falling, being struck by equipment or an object, being blown by the wind, and electrical hazards.
Best practices for preventing these types of accidents include:
Inspect the scaffolding before it is placed into service. It must meet OSHA requirements for accessing and leaving the scaffolding, the work areas must be completely planked and decked, and the scaffold must be properly guyed and tied-off to the structure.
Fall protection must be used.
Guardrails must be installed.
Toeboards must be installed to prevent and avoid falling objects.
Higher scaffolds must have wind screens.
There must be a 10-foot clearance between any power lines and anything on the scaffold.
Stay within the published load limit of the scaffold.
Each day the scaffolding is in use it must be inspected by a competent person, someone who has been trained in building and using the scaffold. Any defective parts must immediately be replaced. Until then the scaffold must remain out of service.
The scaffold must be capable of supporting its own weight plus four times the maximum intended weight without settling or displacement.
Using Lifts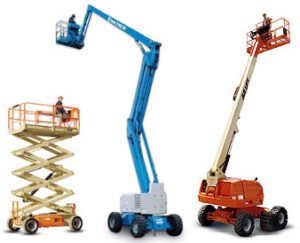 If scaffolding is not appropriate or simply not needed, a lift may be the next best thing. A lift or aerial platform can provide a stable working surface.
Lifts include aerial ladders, extensible boom platforms, vertical towers, articulating boom platforms, and any combination of these. In all cases, workers must:
Stand firmly on the floor of the basket, and shall not sit or climb on the edge of the basket or use planks, ladders, or other devices for a work position.
Wear a body belt and attach a lanyard to the boom or basket when working from an aerial lift.
Shall not exceed boom and basket load limits specified by the manufacturer.
As the Ford® Motor Company has stated for years, "Safety is job number one."
Construction sites are inherently hazardous places that commonly use lifts and scaffolding to place workers at height. Besides providing harnesses for each person leaving the ground, all scaffolding and lifts must be erected, operated, and inspected per the manufacturer's instructions and to OSHA standards. In all cases, training is your best defense against accidents.
Steve Wright works for Whirlwind Steel Buildings, a manufacturer of pre-engineered steel buildings and components. Whirlwind Steel metal buildings are manufactured and designed to meet the highest quality standards. To learn more, visit http://www.whirlwindsteel.com.