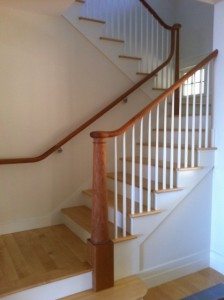 We say yes. Sure, we all have sharper pencils today than we did 5 or 7 years ago. Alot of the (would be) competition has become pretty adroit – or sloppy -at figuring out where to compromise product and process to make lower numbers work. Some will even tell you that they make more money on lower prices now than they did on less competitive numbers in the past. And that may well be true.
But…what can you cut? Go to lower grade materials and you will likely pay for it on the labor end as well as the risk in quality variation. That's not a chance I'm prepared to take. The whole material argument is a bit silly, as we all know that materials are typically at most 15% of the cost of our projects. I have always felt that if trimming a couple of bucks off a gallon of paint was critical to my ability to land work, then I would be better served to market better and learn to sell at a higher price. Of course, you have to build a good company and be able to deliver your service time after time to pull it all together.
So, it's the other 85% where gains are made. The biggest chunk of that 85% would be labor, in most cases. We are in a labor intensive business. If you are thinking about hiring lower paid workers, that is not the answer. You will pay for it in the babysitting service you have to launch. The other big chunk in there would be your overhead and operating costs. Alot of that is out of our control. And it can be a diminishing return to try and chase down cost cuts in those areas.
The gaping hole, as I hear it from most contractors, is in field labor and operational efficiency. This is one big tangled web, because it ties into hiring the right people, training them, supervising them and creating a culture of accountability within your business. It means creating a company where people know that if they work hard and do good work, it will be recognized, rewarded, and that there will be opportunity for advancement. No one wants to be your helper. The good news is that this part of our business is completely within our control. It just takes time and energy to build.
On the business side, estimating has to be accurate. Fortunately, many of us who are still growing businesses have avoided the race to the bottom of the barrel that is square foot pricing. It never made much sense, and makes even less these days.
In my business, this year has been all about dismantling our existing systems, keeping what works in product and process, and bringing in new technologies and training to obliterate our previous production rates in areas we felt time sucking. It is scary to do this, and there is a bit of a transition involved. The results are undeniable, and the numbers in the end reflect it and encourage us to do more with it. As above, a scrubdown involves all aspects of the business. It should be carefully thought and executed. We started on smaller projects with system tweaking and gradually implemented change into larger projects with the goal of 3-6 month full integration of new and modified systems, particularly directed at our custom interior program.
We are heading into the fourth quarter of 2011. It's "go time" for bringing in the strongest finish possible to the year, while looking ahead at next year. For many of us, this is the tail end of peak season, which is the perfect time for a strong finish.
I know you have all been terribly busy this year, keeping all the gears turning. So, please take a moment to throw down a comment. Whats new?