"If we want the trade to stay alive and remain a trade it's our responsibility to pass it on to the next generation" Source
With the PDCA Expo in Charleston South Carolina wrapping recently, there has been a lot of attention on what is going on in the painting industry. It was great to see the photos of the attendees having fun shucking oysters or enjoying the architecture, but even better to see the collaboration and camaraderie going on. Whether a one man or woman (#paintergirl) shop or a larger company, all were gathered to educate, inform, share, and have fun!
Some  examples of a few of the many folks that are working towards building a new generation of  skilled trades:
Business and Marketing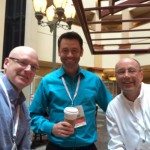 Steve Burnett has been sharing the strategies that helped he and his wife April build (and recently sell) a successful paint contracting business. Steve took those lessons learned and wrote a book, "How to double your business without making a sale". He was at PDCA sharing his expertise so that other contractors could learn from him. Steve continues to be active on Social Media offering advice to contractors.
Giving back to the Community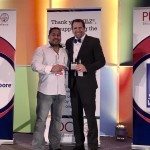 Joshua Abramson is another example of someone who continually gives back to his community and the profession. He passionately advocates for the profession, providing business training to his own staff, as well as paint contractors across the country. His community outreach programs are are great example of giving back, his "have an allbright day" slogan is the epitome of the service he provides to his customers.
 Getting Hands On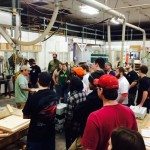 In addition to helping contractors build solid businesses by improving their business skills and social media presence, there are contractors who are training a whole new generation on the practical skills needed as well. Scott Burt and Todd Pudvar have been providing hands on training through their program Prep to Finish to students and contractors for several years now.

PDCA North East Council recently partnered with Prep to Finish on a two day training, which was hosted at the Sherwin Williams store in Medford, MA.
Mathew Richards of Castle Complements shared this account of the event:
Boston area PDCA contractors honed their spraying knowledge at the March 25-26 2015 classes by Scott Burt and Todd Pudvar of Prep to Finish, hosted by Sherwin Williams.

Achieving a fine finish with a sprayer requires intimate knowledge of your sprayer, its abilities and proper preparation.  Scott and Todd take a great hands-on approach to help painters understand today's waterborne paints and the interlocking relationship of a fine finish sprayer to achieve superior results.

Scott and Todd shared both technical and practical breakdowns of the Graco's FinishPro 395 (Graco is a  P2F sponsor) including the nuances of cleaning, maintenance and operation that is unparalleled. Pair that with the patience to teach anyone from the newbie to the seasoned technician allowing them to easily keep the attention of the entire class for 7 hours each day.

In addition to spray training, the classes also touched upon surface preparation specific to the spraying process. Festool (also a program sponsor) power sanders and dust extractors are a state of the art example of prep equipment that excels at dustless sanding and efficiency gains through keeping the work area clean. The expertise that Todd and Scott shared in the disciplines of both prep and spraying form the keystone to the foundation of a fine finish.

Overall, 30 painters took the class and solidified knowledge to take back to their workforce. Based on positive feedback from attendees, the NorthEast Council of the PDCA will be hosting further trainings throughout its area to add even more value for its members.

Mathew- Castle Complements Painting

Courtesy of Prep to Finish
Training the Next Generation
Prep to Finish is also building upon its flagship program which goes into high school level vocational/technical programs and works with students in Building Trades programs to teach them how to paint, in the classic "hands on" style for which Todd and Scott are known.
The 2015 Vocational Training Series kicked off recently at the Randolph Technical Career Center:
This is a program in which students build furniture, under the direction of their instructor, Tim Murphy. Then, Prep to Finish comes in and runs through the surface prep, product selection and finishing phases with the kids.
Here is a video from that workshop:
Building a workforce
And it is not just the youth that are learning the trade, more women are joining, and thanks to progressive companies like EcoPainting, they are being celebrated. Building a company culture that embraces education and accountability is going a long way to "raising the bar" of the industry.

So, we are hoping to see more and more of this type of progress in the paint industry in 2015, and you can count on Blogging Painters to make sure you know what is happening.