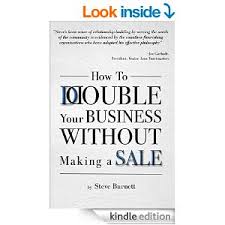 Steve Burnett built a successful business with Burnett Painting and recently handed over the reins to his extremely capable partner and wife, April. This allowed Steve to create another business, Burnett Marketing, that helps painters to realize the same successes he has experienced. He recently wrote a book that has become a hit in our community.  Help us share the good word and leave a comment if you read the book. If you have not read it yet, head over to Amazon and order a copy!
Great book from someone who has been in the trenches
★★★★★
"
Steve Burnett lived it, worked it and then wrote it. It is nice to read a book from someone who has walked the walk and can relate to my day to day dealings with my business. His ideas and experience have opened my eyes to new ways to brand myself and business, get the "word' out and have people WANT to work with me. Thanks Steve for writing this book.
"
A fresh new perspective on marketing
★★★★★
"
In the last year, I've read several books on marketing. Most of them take me over a week to read because they are boring and full of stuff that is hard to read through. I finished this book in less than 24 hours. Steve wrote this book from a great perspective that makes it easy to read and easy to learn from. The book has information that can help any new business get a solid focus on their marketing techniques. But it's also a great read for more seasoned businesses who need to re-grasp the core marketing ideas that make good businesses great businesses.
"
A book you will read multiple times!
★★★★★
"
Like Steve, I read everything I can get my hands on to improve myself and business. Moments after the release of this book, I purchased it in anticipation to absorb every word of it. Steve and I have lived similar paths and having followed him online, I was anxious to get my copy and emulate his success. As a business owner it is a excellent reminder of what we truly could/should be doing more of and as a new business owner; it is paramount you read his book and template each chapter for a successful business start. Steve's book has earned its place in my intellectual library beside all of my favorite business/ sales and marketing Guru's!
"
My New Business Bible
★★★★★
"
Without a doubt this book has literally turned my business in a new direction. That direction is upward to new heights I didn't know I could reach! I have been stuck in a 90's marketing mentality of thinking I can't market my business, because I don't have enough money to advertise in the nice magazines. Well, Steve has laid out in this book how soooo wrong I was. Steve methodically tells you how to market your business without spending big money, through techniques he himself has proven to be successful. I could go on and on about the value of this book. This is a must have for anyone in the painting business or any business!
"
Growing in today's economy
★★★★★
"
Steve does an excellent job telling a story and relating the business importance behind every decision. His guidance given through the perspective of the grandfather is money. A great read for anyone wanting to grow or anyone new in to business.
"
Epic & Game Changing
★★★★★
"
This book and the author Steve Burnett have offered so many valuable missing links to my business. What I love about the book is that every practice in it was lived out by a real person running a real painting company. Through trial, error, and success Steve Burnett delivers gold in this great read and engaging storytelling. 6 months down the road from my first introduction of "how to double your business without making a sale" the first word that pops into my head is thankful! Implementing the knowledge from this book has given me comfort looking down the road at my business, the people I meet along the way, and the way I approach every opportunity to deliver a great painting experience.
"
-
How to double your business without making a sale
Leave your comments here!
5

out of

5

based on

6

reviews.
Overall rating: